Catalina Rose Bay Wedding
This is probably one of my most memorable reviews of the year. We went to Catalina Rose Bay to celebrate my ex-work/gaming/foodie mate's wedding. Catalina has been a Good Food Guide's one-hat restaurant for a few years.
Catalina was also voted as the people's award winner for 2015 by Australian Financial Review. The restaurant overlooked a beautiful bay with yachts and sunset view.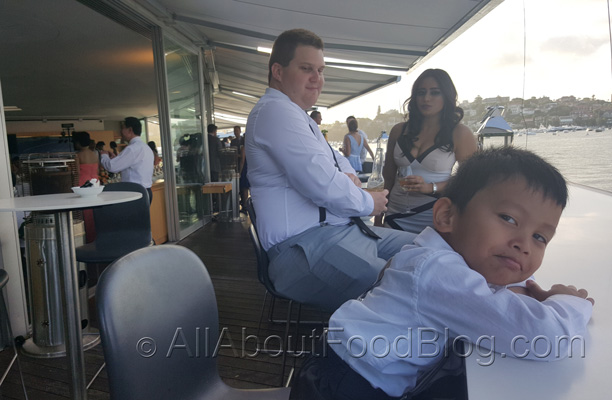 So, having a wedding venue that is a combination of great food and great view isn't that bad, is it?
Travelling Entrée (or some might say roaming canapé) – Catalina Rose Bay Wedding
According to the Assistant Manager, the travelling entrée is not part of the regular menu at the restaurant. We get 10 (yes, TEN!) different travelling entrée. Being a travelling entrée, it was quite hard to get a picture of all of them although they were eventually put on display for the bridal party.
They were all quite simple but yummy entrée. Here they are in no particular order with my best guess of ingredients:
Smoked salmon with cream cheese and caviar on crostini
Fresh oysters with lemon and Catalina's vinaigrette
Fresh tuna with vinaigrette and peas puree
Zucchini flower with goat cheese
Beef with pastry
Eggplant
Sausage rolls with tomato sauce
Mozarella arancini balls
Battered prawns
I am not quite sure what the last one was!
Main Course – Catalina Rose Bay Wedding
What separate Catalina from wedding venues I attended before was its main course. Instead of having alternate main course for the table, they actually asked which of the two you prefer!
Roasted lamb rack with minted pea puree, baby beetroots & tomato jus
I sort of 'cheated' and asked the groom whether I should order the barramundi. He told me that I would love the lamb rack… Great advice! The dish came with TWO racks of lamb!
No surprise it was quite a sweet dish considering that it was complemented by beetroot, tomato and minted pea. It was a decent portion for main.
Crispy skin Cone Bay barramundi with spanner crab ravioli, enoki mushroom, avruga, sage & eschalot cream
Being on the main table, I could not find someone that I could pinch the barramundi from. It did look very pretty and (without a doubt) grilled perfectly!
The complements further enhanced the seafood character of the dish.
Dessert – Catalina Rose Bay Wedding
For the dessert, it was a no-brainer for me. I do not like dark chocolate and I tried hard to find someone who wanted to swap if I did get the dark chocolate… surely I did get the dark chocolate (which I quickly swapped with the other groomsman!)
Unlike the main course, the dessert was served alternately between guests.
Strawberry pavlova with lime curd & strawberry coulis
The two-tone pavlova looked elegantly simple.
Unfortunately when I got to the table, the ice cream was completely melted – we took way too many pictures! I was also quite full from the 10-course travelling entrees.
I did finish the pavlova to the last scoop and I think it was up to the one-hat standard.
Dark chocolate mousse with wattleseed ice cream & cocoa tuile
As I am not a big fan of the dark chocolate, I had to ask my friend how it tasted and he said 'it was nice'.
The technical aspects were quite apparent on the dish.
Catalina Rose Bay Wedding
Details:
Lyne Park, Rose Bay, NSW 2029
+61 2 9371 0555
http://catalinarosebay.com.au/