On a bright Sunday morning, my friend, Mieke, and I stood in front of The Caffeine Dispensary door with great excitement about the coffee cupping event that we were going to join in.
When we walked in, we found this simple yet lovely industrial-look cafe. Several food bloggers were already inside. We were welcomed by one of the owners, Aji. He was making a drip coffee. Aji also owns a coffee shop in Singapore, called The Revolution Coffee. The other owner are Rio – the roaster – and Andri, the store manager.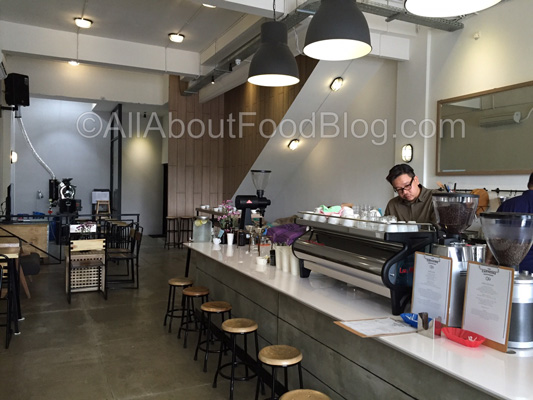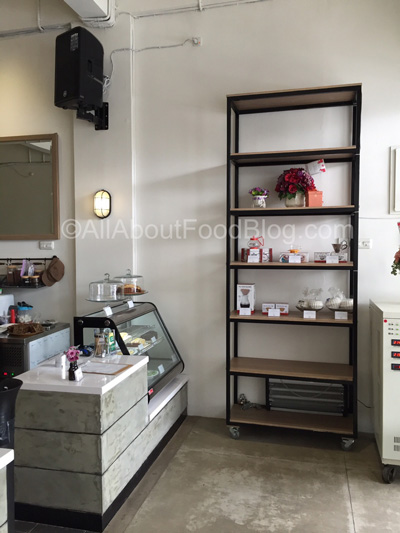 When we asked why the barista area was so spacious, Aji kindly explained that they wanted to make a difference in coffee sipping. They encouraged coffee appreciation and wanted to be more than just a regular coffee shop. Here, the coffee lovers can also participate in making their cups of coffee!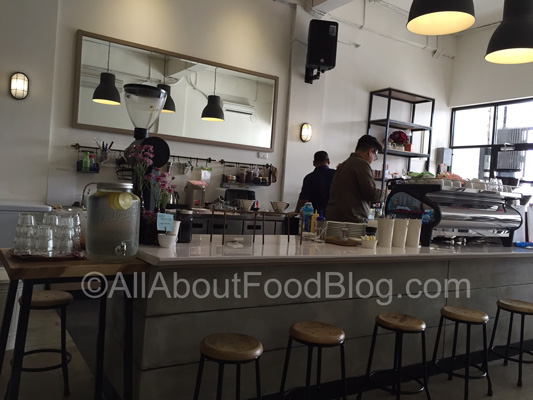 The Caffeine Dispensary serves various kinds of coffee from all over the world and specialises in in-house roasting of their coffee beans.
Rio, the roaster, explained that after roasting, coffee beans only lasted for about a month. While the un-roasted beans would last longer, about a year when kept inside a sack. The roasted beans will bloat but the mass will decrease due to moisture loss. As you can see below, behind me there was a roasting machine, which could produce 1 kilogram of roasted beans in each process.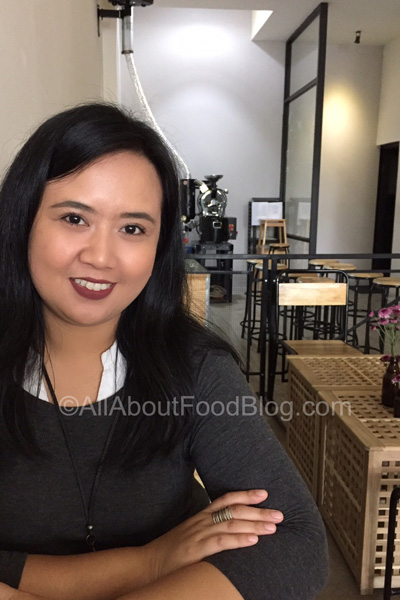 After we picked our seat, they gave us the menu. The price is very reasonable, and worth the coffee appreciation. They don't have many choices of food for now, because they want to focus on serving the coffee.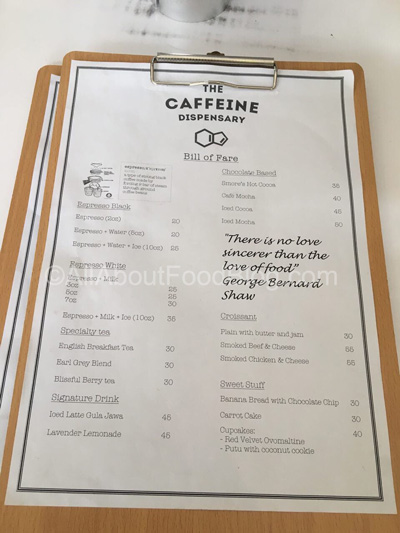 I chose 5oz Espresso White, equaled as Cappuccino, while Mieke ordered Iced Latte Gula Jawa, one of their signature drink. Mine used the Kenya Mugaga beans, and Mieke's were Aceh Gayo.
Tadaaaaa….our orders arrived. I immediately gulped mine. It was very good! It turned out the Kenya Mugaga coffee had the perfect combination of bitterness and sourness, very aromatic, and overall it tasted well-balanced. I also took a sip of Mieke's Iced Latte Gula Jawa. I really loved the taste! Aceh Gayo had a floral aroma and you could really taste the flavor of Javanese brown sugar that they used. Not the kind of Iced Latte you'd easily find elsewhere.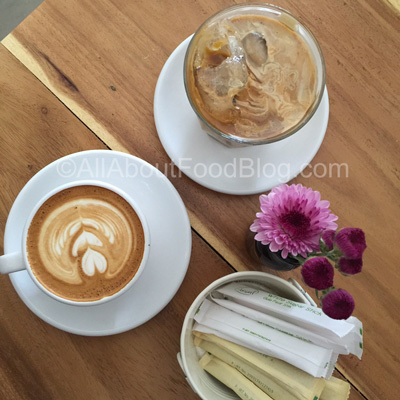 They also gave us complimentary sweet treats, one Carrot Cake and one Banana Bread with Chocolate Chip. Both of them satisfied me as a cake lover; Rich in flavor, but not too sweet and had smooth textures. I actually ate both slices, since Mieke wasn't a fan of sweet cakes. Lucky me!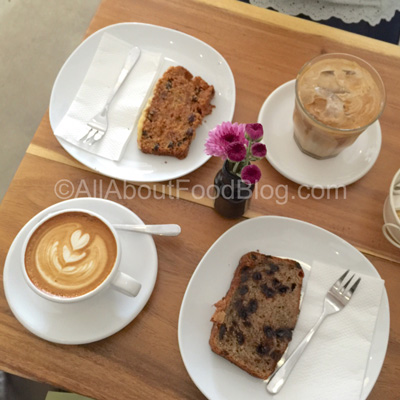 Upon finishing them, the coffee cupping session began. First, we were given the acknowledgment about The Caffeine Dispensary, the basic theory of coffee and the process of making a good coffee. Then we had a quite interesting Q&A session afterwards.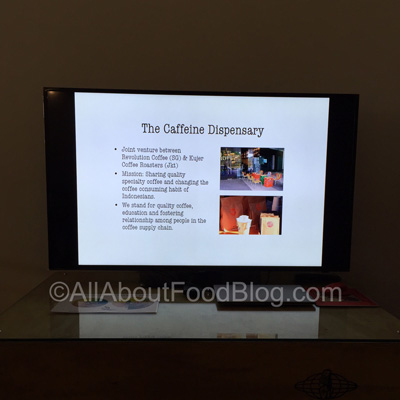 Afterwards, we moved to the cupping table, where they had prepared 6 different kinds of coffee. They were Nicaragua Misael Sauceda, Toraja Sapan, Kenya Nyeri Mugaga, Sunda Arumanis, Brazil Formoso, and Aceh Gayo. We were given raw beans, roasted beans, and two cups of ground coffee for each type. We carefully sniffed the different aroma between roasted and ground beans. All of the raw beans smelled like grass, so we could ignore those for a while.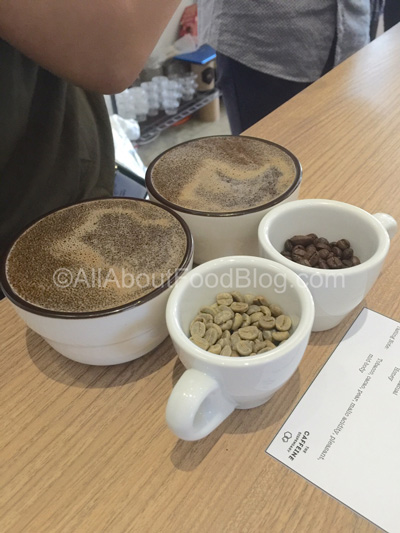 The two cups of ground coffee were now poured over hot water. We had to wait for about 4 minutes before we could break the crust. Using 2 spoons, carefully we scooped together the crust from one side to another. If you were an expert, you could do it in just one attempt. After the crust was clear, we could sniff the real aroma of the coffee.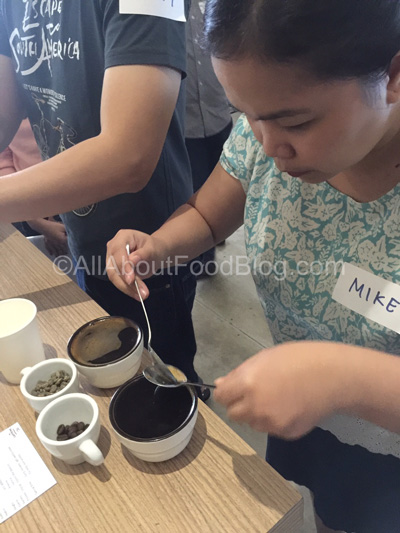 We then began to taste the coffee. We had to loudly slurp a spoon of coffee. I found it difficult as I couldn't be fast and loud. At least I tried my best and ended up looking silly, haha… We had to taste from the coffee cups for each kind, to test for consistency.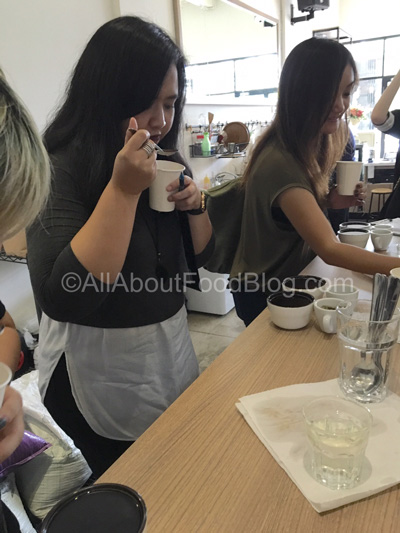 After that, we needed to fill the Cupping Form, which looked like the picture below. We scored from 1 to 10 of the aroma, acidity, body (thickness), flavor, etc. I got a tie for the highest scores between Brazil Formoso and Kenya Nyeri Mugaga, which I scored 9.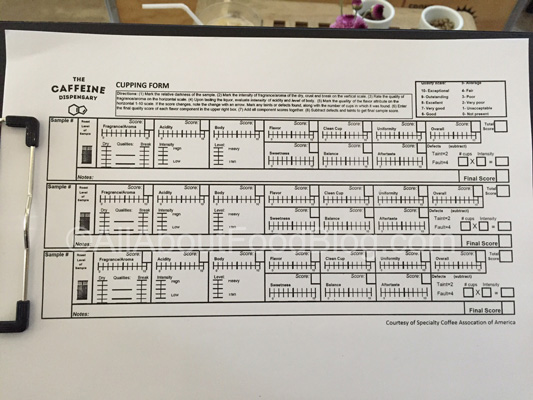 They knew that our mouth had gotten a bit bitter after the cupping, so they offered us something from the menu. I picked the Lavender Lemonade, another signature drink. It was so refreshing! A nice twist between the sourness of lemon and the good smell of lavender.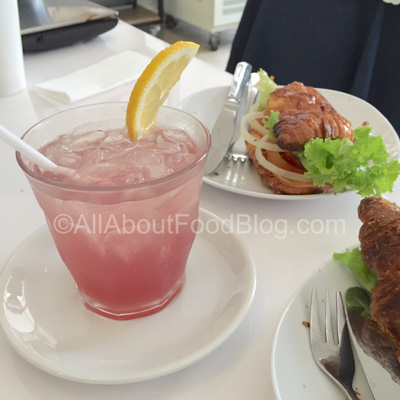 The fun carried over to lunch! They already prepared croissant sandwiches for us. I picked the Beef&Cheese Croissant and loved it! The croissant itself was very buttery, good crisps and soft inside. The filling was perfect, rich in flavor. I really loved this croissant. Mieke said that she loved her Smoked Chicken croissant too.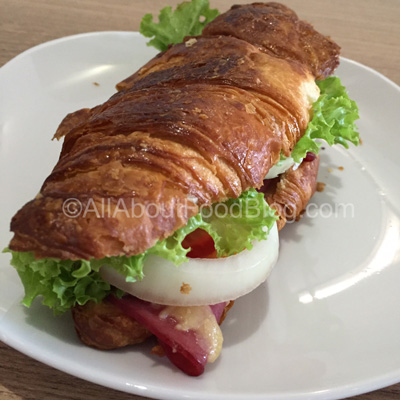 The final verdict for The Caffeine Dispensary
As a coffee lover, I definitely would love to get back here. I am excited for the new kind of coffee that will arrive every month.
Did you know?
There is lemon-infused water available for free if you need refreshment after drinking coffee. Don't hesitate to refill your glass! It's compliment from The Caffeine Dispensary for you, the coffee enthusiasts.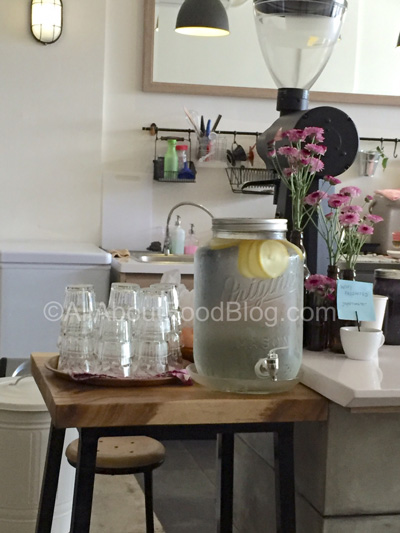 Details:
Jl Kelapa Kopyor Raya Blok 1 No 16, Kelapa Gading, Jakarta
+62 21 452 0109
http://www.caffeinedispensary.com/