Review:
When people talk about the best steakhouse in Sydney, you will always hear The Cut Bar and Grill as one of them. That's why when a group of friends from overseas came to visit and wanted to try the famous Australian steak, I dared myself to take them there. It was sort of a gamble for me as I personally haven't tried it before and I would really hate to have over-hyped and overpriced steakhouse.
There were eight of us and was one day before New Year's Eve. I actually did not expect to be able to get a seat at The Cut. However, long story short, we were seated (and possibly the most underdressed bunch ever set foot in the restaurant).
As if the square boxes on the menu are not clear enough for you, I'll make it clearer: when you are in the restaurant, ORDER A STEAK!
They have quite a large range of cuts with marble score ranging from 2 to 9+ (translate: If it is cooked properly, it is so friggen' good!).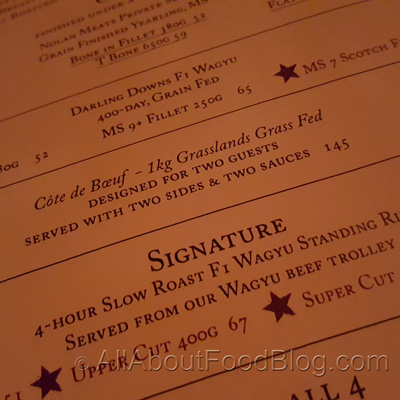 Côte de Bœuf – $145 – 1kg Grasslands Grass Fed served with two sides and two sauces
This steak is (supposed to be) designed for two people. It also comes with two sides and two sauces – that's a $30 value!
When the steak arrived, it was eye-catching, looked juicy and perfect.
However, we seriously doubted that it was 1kg… or the fat was probably burned down by the 650ºC Broiler. In the end, we felt that one of us could finish this easily by ourselves.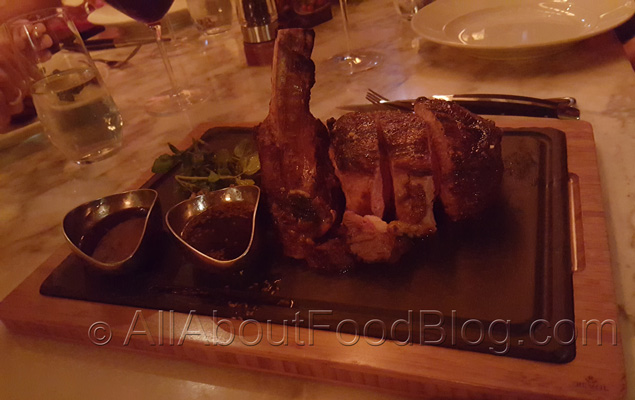 Signature Upper Cut – $65 – 400g 4-hour slow roast F1 Wagyu Standing Rib
The 400g was ordered by our other friend. However, the funny thing was that it looked bigger than our 1kg steak!
I did try the steak from my friend and it was pretty amazing. My friend even said that this was "The Best Steak in my life".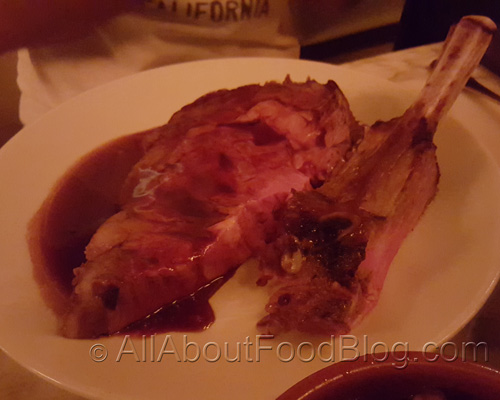 Flat Iron Steak "The Butchers Cut" – $43 – 250g Rangers Valley Pure Black Angus MS 3-5
It looked pretty sad and small on that big plate. However, we have to consider that it's only 250g.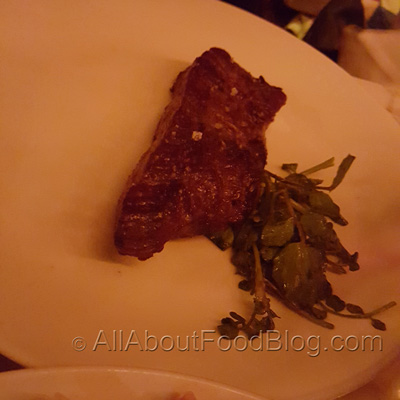 Sauces – $4 – Bearnaise, Chimichurri, House Steak Sauce, Mushroom, Shallot Red Wine Bordelaise
I was actually quite intrigue with the chimichurri, but in the end we opted for House Steak Sauce and Bordelaise. I liked the house steak sauce better than the bordelaise.
Whipped Potato – $10
Cauliflower, Blue Cheese Dressing – $12
These two were the extras we ordered with our steak. We were also considering Rocket salad (my favourite vegetables), but the blue cheese dressing eventually got my vote.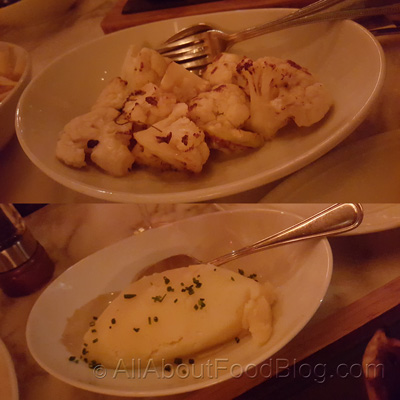 Roasted Button Mushrooms, Thyme, Smoked Speck – $13
It's a nice and quite complex mushrooms side dish.
2013 Yellands & Papps Vin de Soif Grenache Mataro, Barossa Valley – $59
They have a good range of wines. My friend selected this for the group.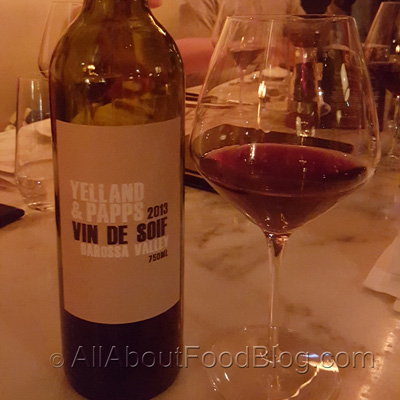 My guests were very impressed with the quality presented at The Cut Bar and Grill… and I agreed.
Did you know?
For those of you who got outvoted into this restaurant, they do have non-steak dishes as appetizers and mains. They also have a selection of desserts.
Rating for The Cut Bar and Grill:
8.5 / 10
Taste: 8.5 / 10
Price: $43 – $145 per steak
Place: 8.5 / 10
Details:
16 Argyle Street, The Rocks, Sydney 2000
+61 2 9259 5695
http://www.cutbarandgrill.com/