Masuya Japanese Seafood Restaurant Review:
I had a friend coming over from New Zealand and he was looking for a great dining experience in Sydney. My option went to Masuya Japanese Seafood Restaurant, which was considered by many as (one of, if not) the best Japanese in Sydney.
They have an option of Kaiseki, aka degustation, dinner. But on this occasion, I opted to pick and choose dishes we would like to try… just because there were just way too many I'd like to try!
Tofu and Avocado Salad – $10.80 – silken tofu, avocado & seasoned seaweed with shiso basil dressing
My usual comment for salad is 'just another green'. For this one, the green comes from seaweed, and avocado as well… a less green-y salad!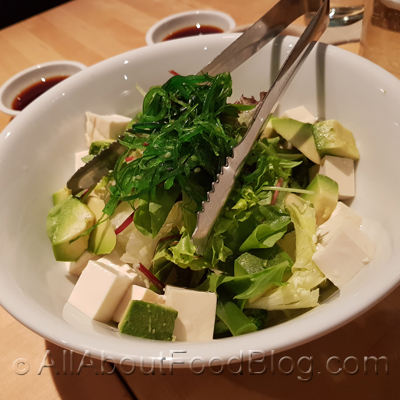 Masuya's Salmon Salad – $13.80 – lightly spiced marinated salmon with creamy blue cheese, onion and salad with rice vinaigrette dressing
I love this salad… with capital L O V E! It has that burst of blue cheese while we're eating that makes it pretty exciting.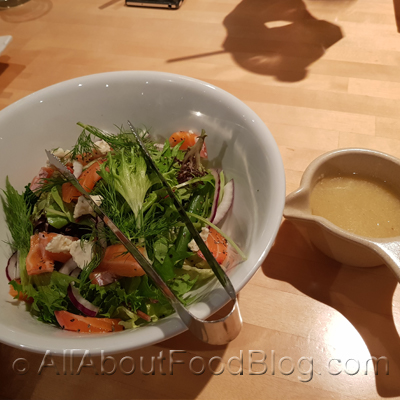 Beef Tataki – $14.80 – seared wagyu beef, sliced sashimi style, crisp mizuna with ponzu soy citrus and a touch of balsamic
The depth of flavour for this beef tataki is very nice.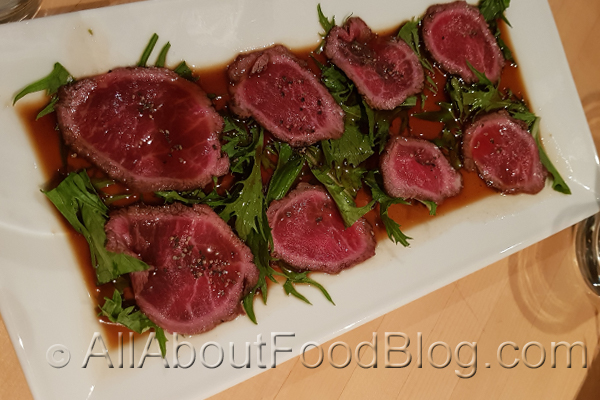 Karaage Soft Shell Crab – M $19.80 – crispy soft shell crab with sweet chilli and wasabi mayonnaise sauce
This dish was gone quite fast, courtesy of its mouth-watering presentation. The wasabi mayonnaise was very smooth. There was also a portion of crushed potato (it wasn't exactly mashed as the texture was grainy) that was quickly becoming our favourite!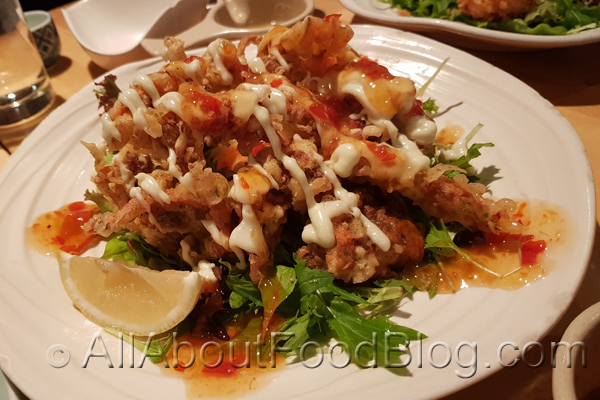 Tonkatsu Pork Loin (Kurobuta) – $20.80 – deep-fried crispy kurobuta pork loin served with home blended tonkatsu sauce
They told me that the tonkatsu was pretty good as well.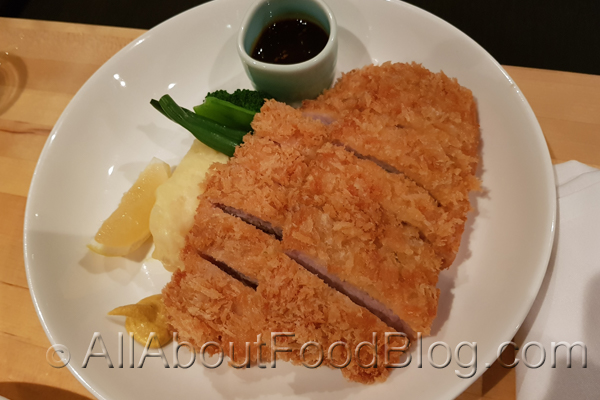 Sea Eel (Anago) – $22.80 – bbq sea eel grilled with our flavoured original sauce on a bed of steamed rice
This white sea eel wasn't exactly presented for sharing. Masuya's sauce was sweeter than most Japanese grill sauce.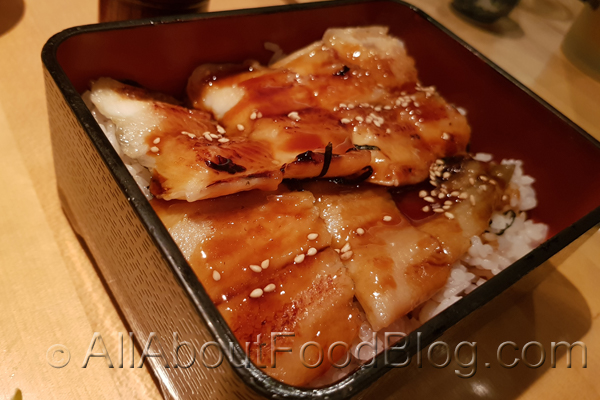 Hokkaido Scallops – $24.80 – deep-fried scallops, imported from Hokkaido, Japan, served with homemade tartar sauce & tonkatsu sauce
To be honest, I am still not sure what's so special about scallops from Hokkaido. It tasted like scallops from Sydney, which I think is already one of the freshest and best in the world.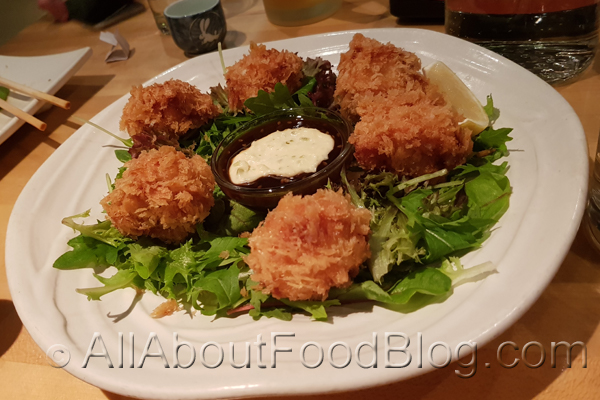 Sushi Deluxe platter – $68.00 – Gorgeous and most valued sushi selection – total of 32 pieces assorted sushi
There were quite a lot of sushi in the plate. It was presented beautifully and tasted amazing!
If you really want that uni (sea urchin) sushi, you'd better be quick!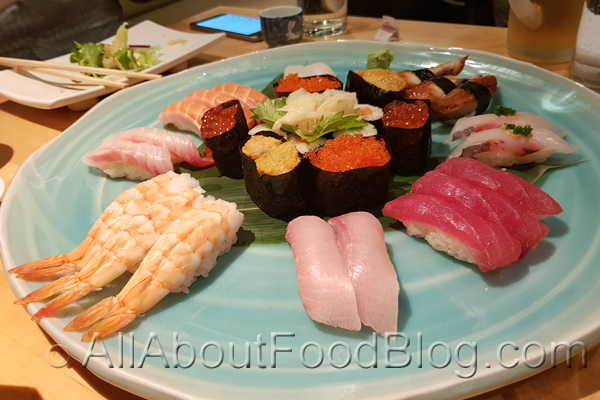 Ocean Jewel Boat – $88.00 – a dozen pacific oyster served with three different types of sauce, scampi, hokki, scallop and fresh salmon sashimi
Ocean Jewel Boat is the most mouth-wateringly elegant sashimi boat I have ever seen. The content is like A-list celebrities of the seafood world, minus lobster. It was served super fresh. We, obviously, devoured them in a heartbeat!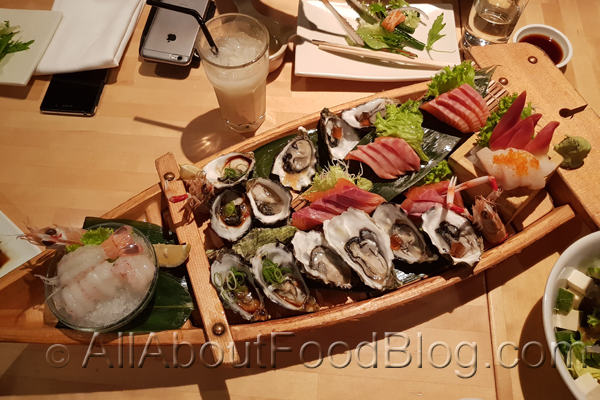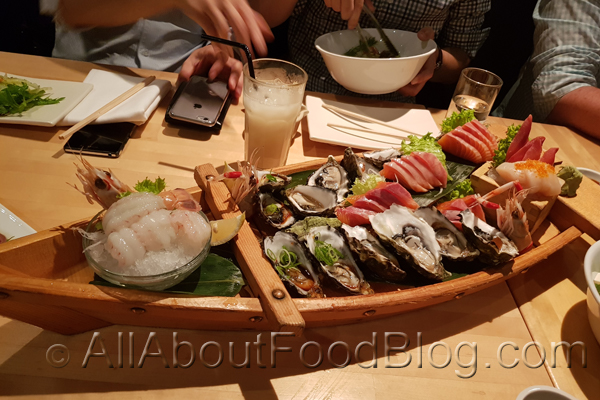 Nasu Miso – $9.80 – deep-fried eggplant with Masuya's original miso paste
We actually ordered this quite later in the service after we found out one of our guests couldn't eat too much raw fish. What's not to love about nasu miso? The eggplant was so soft!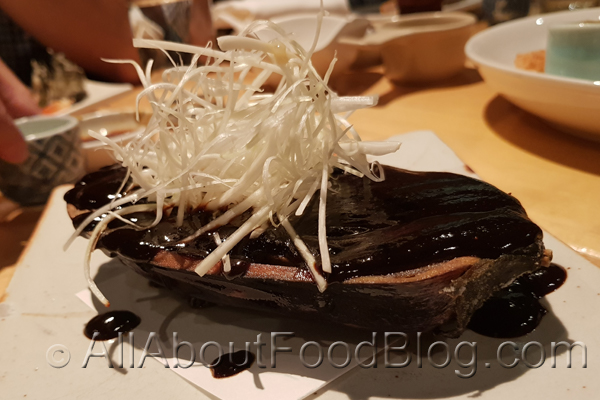 Misoyaki Chicken – $20.80 – oven grilled miso marinated thigh fillet of chicken served with green vegetables
Another one that we ordered quite late. The serving was quite small but it really packed a punch.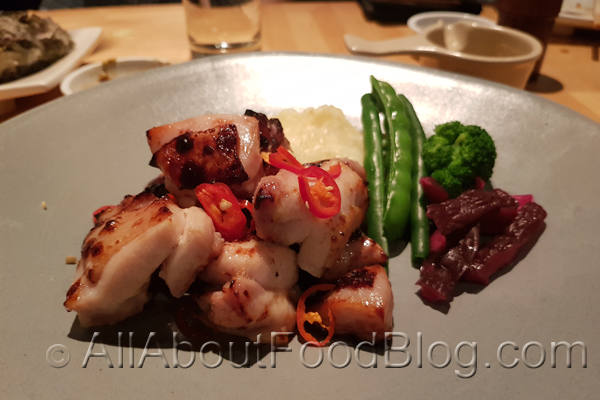 Wagyu Sukiyaki Hot Pot – $48.00 – finely sliced marble score no. 6 sirloin beef with seasonal vegetables, cooked at your table, served in a traditional Japanese style with beaten egg dipping sauce – minimum order for two
I did not order this for our main group. A decision that I quickly regretted (and was frowned upon by some people in the group). You really must order this when you are dining at Masuya… especially in winter!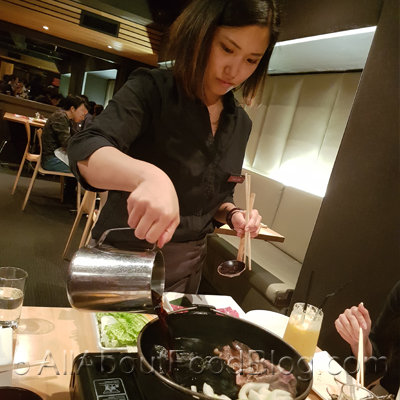 The final verdict for Masuya Japanese Seafood Restaurant
Masuya Japanese Seafood Restaurant lived up to its name. We had wonderful dining experience there
Did you know?
The restaurant group has a few different levels of restaurant, including an izakaya that we have reviewed in the past.
Rating for Masuya Japanese Seafood Restaurant:
9.0 / 10
Taste: 9.0 / 10
Price: $75 per person
Place: 8.5 / 10
Details:
12 – 14 O'Connell Street, Sydney 2000
+61 2 9235 2717
http://www.masuyainternational.com.au/en/masuya/