8 / 10

Taste: 8/10

Total Price: $75.5 for two

Place: 8.5/10
Review:
Niji sushi bar is the newest restaurant in kingsford. Being a sushi train restaurant, it was a bit tricky to write the review, especially with the overwhelming number of dishes available. As usual, the plates are colour coded according to their price.
However, as I will share a bit later in the review, Niji sushi bar is not all about sushi. In their menu, they also referred to themselves as Japanese Izakaya. Izakaya is normally a drinking establishment that translates to 'to stay at a sake shop'.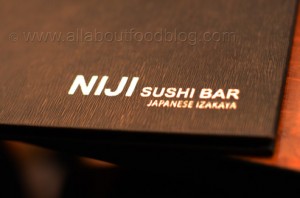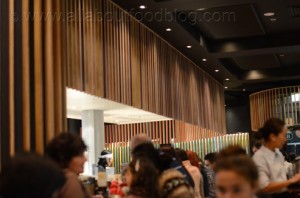 Sushi
We skipped on the usual suspects, like Salmon or Scallops, and opted for a more adventurous Beef tataki sushi. We also had a trio of easy-to-digest dishes for my son: tamago sushi, seaweed, cooked tuna mini roll. It ticked all boxes for 'sushi the way it should be'.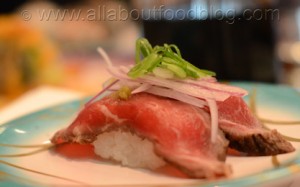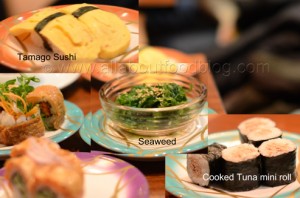 Sushi rolls
They had a generous serving of sushi rolls in a plate (four pieces to be exact). We tried quite a number of rolls with different price range. Tofu roll would be the obvious vegetarian dish with its nice and sweet tofu skin. We then have Salmon sesame with avocado and cheese. On the higher end, we had Aburi salmon roll with avocado and cucumber and Prawn and Avocado roll.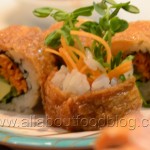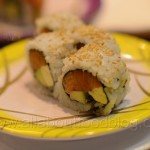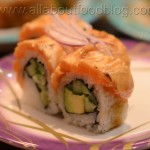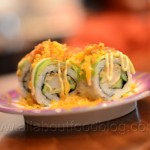 Hot dishes
One of the two unusual items in the menu was placed right on the first page. As soon as I saw Scampi Miso on the menu, I knew I had to have it. Its presentation might be a bit intimidating to some people but the miso soup really sure packed a punch. I would rather enjoy fresh scampi on a sushi, since I think I couldn't differentiate the cooked scampi's texture. My son wanted to grab the Takoyaki and they were pretty decent.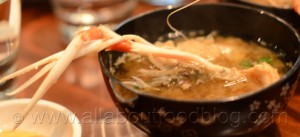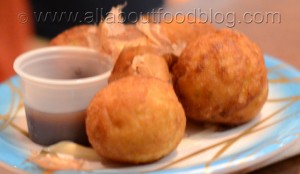 There were three different kinds of Soft Shell Crab in the menu and we chose the plate menu. The crab was both soft and crispy with additional seaweed flakes. The combination of flakes and wasabi mayonnaise created an extra dimension of taste in the crab. We also enjoyed the Salt and pepper Squid.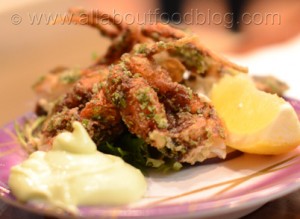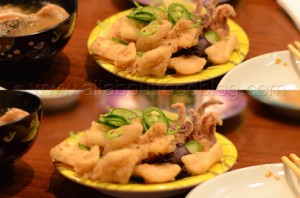 Robatayaki
Wagyu beef robatayaki was the second item that caught my eyes. Seriously, wagyu beef for $6.50, who wouldn't want that? I was even happier when the plate was finally delivered: there were two skewers of wagyu! The beef was perfectly grilled and seriously mouth-watering. I actually had to order a second plate because they were just too good (and good value for money too!).  They were delightfully tender and incredibly yummy.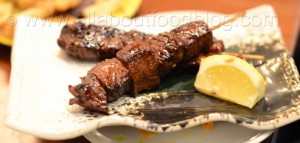 Dessert
I must admit I was surprised when the waitress suggested us Crème Brulee. It was very well presented and had the correct elements. I felt that it was just lacking a bit of the red bean filling.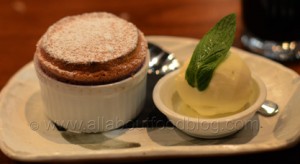 The final verdict for Niji Sushi Bar
Niji Sushi Bar was the one thing Kingsford has been missing all this time, a nice sushi bar. Niji has a large assortment of dishes on its arsenal and still managed to deliver quality sushi. You should seriously consider ordering Scampi Miso or Wagyu Beef Robatayaki.
Details:
333 Anzac Parade, Kingsford
+61 2 8068 4849