8 / 10

Taste: 8/10

4-course degustation: $94

Place: 8/10
Review:
We went to Tomislav Restaurant for my birthday last week, that's why this review was expedited instead of the one showing in 'Next Week's Menu' 🙂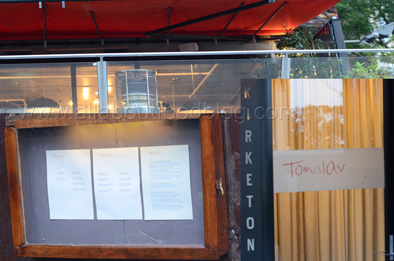 You have two options when dining at Tomislav: A four-course dinner or an eight-course dinner. Within the four-course menu, there are four options for each course. However, since there were eight of us, I had to take one of the options off the menu. It was good to see that the menu was specifically catered for us (i.e. only displaying three, instead of four, options).
To start
Luckily I glanced at other reviews before I went to Tomislav. Otherwise, I would've missed this delightful entrée. It was simply named Rice Crackers. Before you think about those supermarket brands, rest assured that it wasn't. They were fine and delicate sheets of rice crackers. For an added sensation to the dining, the sea salt and vinegar option came in a mist spray bottle. We were quite playful with the mist spray and had a very high excitement level!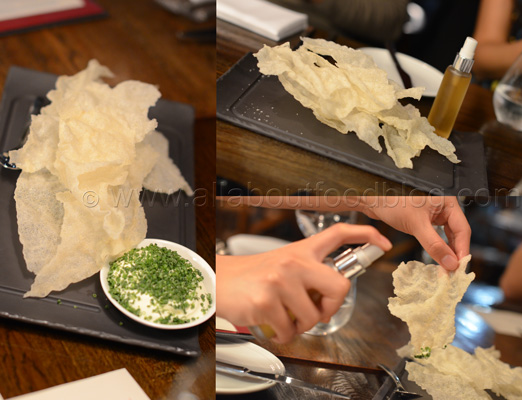 There were complimentary Bread and Butter before starting the courses. The butter was exceptionally smooth and soft with a hint of coffee! Unfortunately I was only given a tiny piece and that was the only piece I got for the whole night.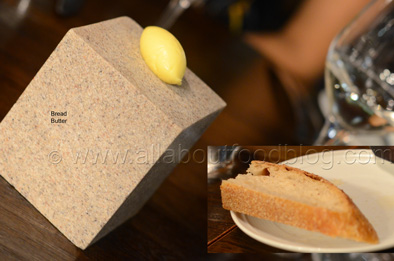 Course 1
I was over the moon when the first course arrived. It was Scampi Carpaccio with sour cream and pumpkin juice. The juice was poured from a test tube prior to us eating the course. We couldn't really see the scampi since it was all covered by condiments. All of the elements worked so well together.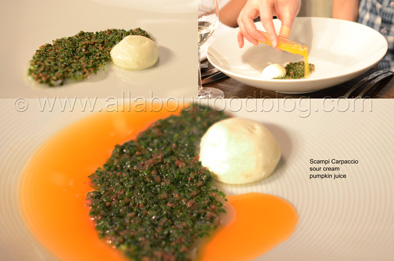 I also managed to try Venison Tartare with quail yolk, mint crumbs and crackers. I felt pretty bad in poaching the tartare from my wife as it was already very small to begin with. It was pretty in the presentation.
Course 2
Another pretty-but-small dish arrived for my second course, Poached Hen's Yolk with foie gras and green peas. I am not quite sure why the Hen's yolk was the highlight of the dish when the foie gras clearly dominated the plate.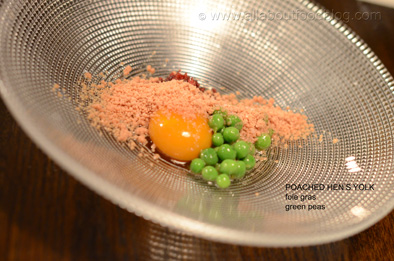 I was a little bit envious with the people who ordered Grilled Blackmore's tongue with beetroot and malt ice cream. Two perfectly grilled blackmore's tongue with grilled onion were so good, especially with a touch of beetroot sauce.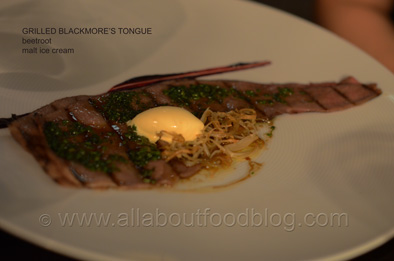 Course 3
Roast Lamb Belly with wasabi and grilled pineapple was my next dish. The wasabi in this dish wasn't hot at all. On the contrary, it was so smooth and there was no hurt-your-nose sensation after you tasted one. It was a generous serving of lamb belly, perfectly roasted so that you could feel its juice mixing with the sauce. It was an overall sweet and savoury dish.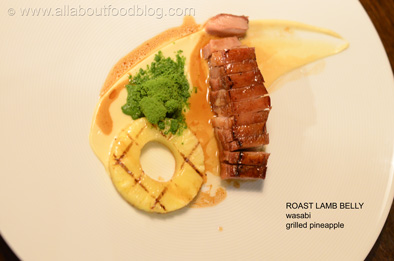 Roast Veal Sweetbread with purple onions and popcorn milk was the other one I tasted. It was also quite a sweet dish, courtesy of the onions and milk.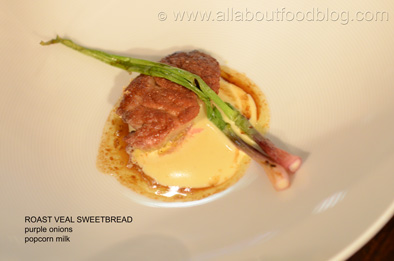 Course 4
The least appealing of the three, my last course, Caramel Pudding with toasted walnuts and yoghurt sorbet, arrived. I think the burnt caramel taste over-powered the smooth yoghurt sorbet. I wasn't too happy for it to be my last dish of the day.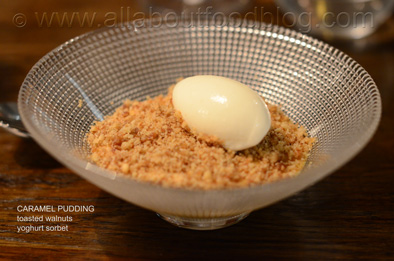 The cheesecake in Vanilla Cheesecake with apple ice and roast apple ice cream was presented in two ways: a diced sturdy form and the more emulsified one. It was a nice combination of sour and cold apple with the heavier cheesecake.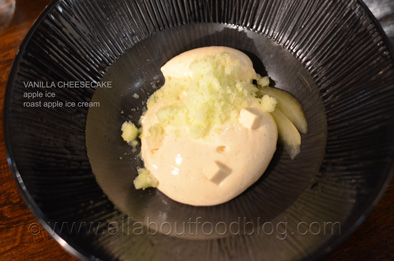 Third set
For the last set of degustation, some of our friends ordered them but I didn't have a chance to taste. Poached Yellow Fin Tuna looked a bit too tiny for me, but the Roast Quail looked pretty apetising.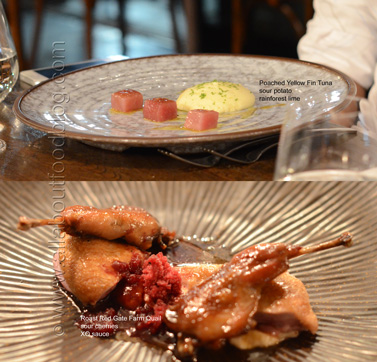 Similarly, the braised beef short ribs wouldn't stand a chance against my lamb belly. The milk chocolate cream cake on the other hand looked very interesting and I wish I could've ordered that instead of my caramel.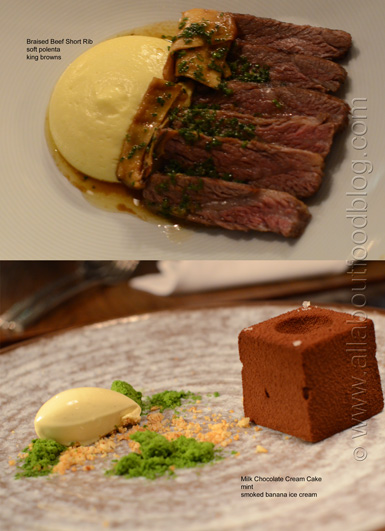 The final verdict for Tomislav Restaurant
Tomislav Restaurant earned the rights to be amongst the elite restaurants in Sydney. We had a mixed review of individual dishes, but the overall feeling was an enjoyable one. I would have loved it even more if I wasn't still hungry at the end of the service, since they only served the bread once.
Did you know?
Although Tomislav is technically in Darlinghurst, It is actually located on the opposite of the big coca-cola sign in King's Cross.
Just like any other top restaurants, don't expect to see the same menu in a different season. They would keep rotating the menu to freshen up.
Details:
2/13 Kirketon Road, Darlinghurst NSW 2010
+61 2 9356 4535