Nu Bambu Review:
I saw a few pictures of food at Nu Bambu in Sydney Food Bloggers facebook group. Considering that the restaurant is quite close to where I live, we decided to give it a go one day.
The restaurant is located in Canterbury and Hurlstone Park RSL. The menu is quite a fusion of all things Asians, from the Thai salad to Indonesian Nasi Goreng. However, I think it is probably one of the pricier RSL food in Sydney. Is the price justified by the taste?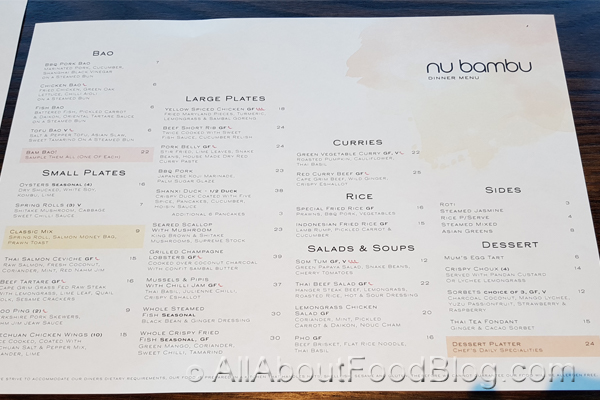 Beef Tartare – $16 – Cape Grim grass-fed, raw Steak with lemongrass, lime leaf, quail yolk, sesame crackers
It is quite an interesting display of beef tartare. I have never seen it served with sesame crackers and fried shallots. I love the extra crunchy dimension to the dish.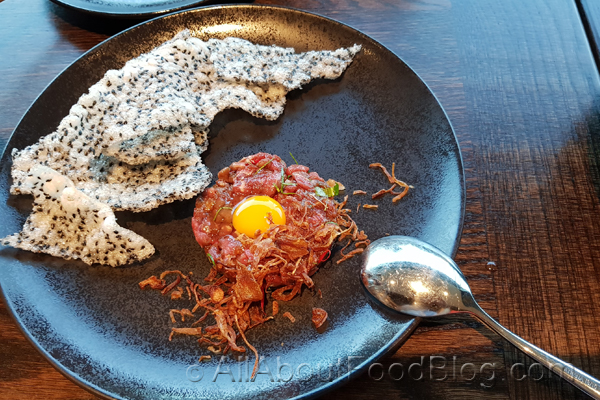 Thai Salmon Ceviche – $15 – Raw salmon, fresh coconut, coriander, mint, red nahm jim
The ceviche's combo is also something you don't see very often. This Asian version of ceviche came with fresh coconut and spicy Thai dipping sauce.
From these two dishes, we got a sense that it was going to be quite an exciting dinner.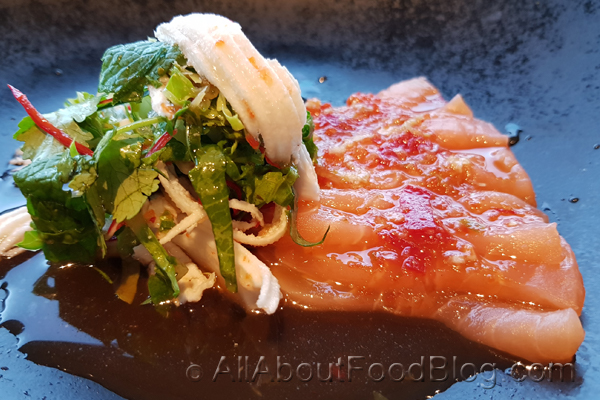 Beef Short Rib – $24 – Twice-coocked with sweet fish sauce, cucumber relish
I won't tell you anything but this: You must order the beef short rib.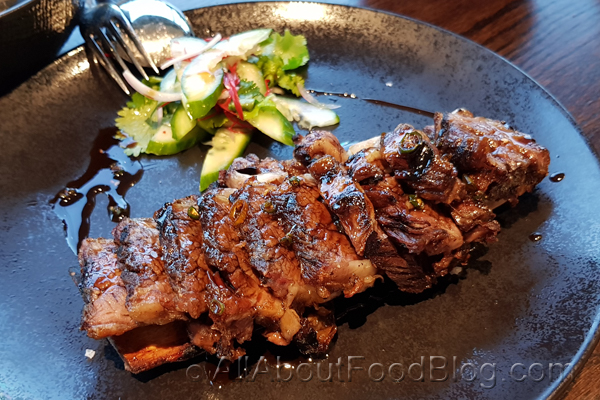 Grilled Champagne Lobsters – $39 – Cooked over coconut charcoal with confit sambal butter
Due to my lack of knowledge of what 'Champagne Lobster' is, I was kinda surprised when it came out as 2 small-ish lobsters. The lobsters were full of flavour. Don't worry about the sambal butter, I am sure most people would be able to handle the heat.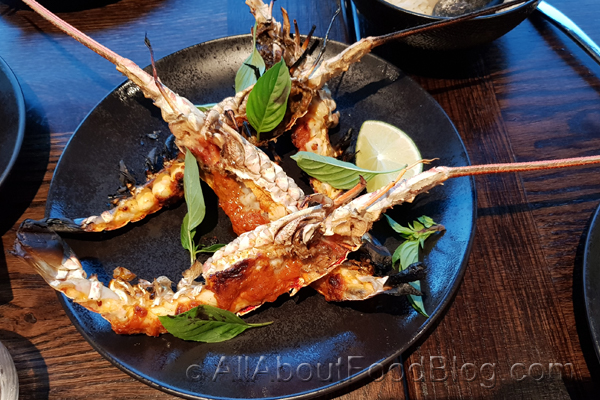 Whole Crispy Fried Fish – $30 – Green mango, coriander, sweet chilli, tamarind
This dish might look a little bit challenging. It was a whole fish after all. The sweet, spicy and sour taste was in line with a mild Thai green salad. I love whole fish as I could eat pretty much everything but the bones.
Asian Greens – $8
You know they make a good bowl of vegetables when your kids couldn't stop eating it. That's exactly what happened with this Asian Greens dish.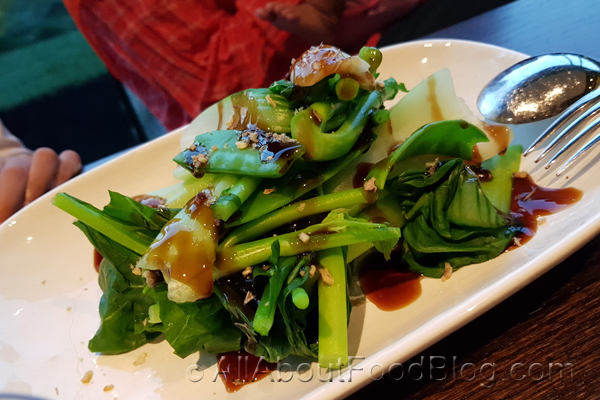 Thai Tea Fondant – $15 – Ginger & cacao sorbet
Unfortunately, I made a rookie mistake for this dish: I did not take a picture when the yummy, gooey Thai tea seeped out of the cake. It was also interesting to know that the ginger sorbet worked perfectly with the cake.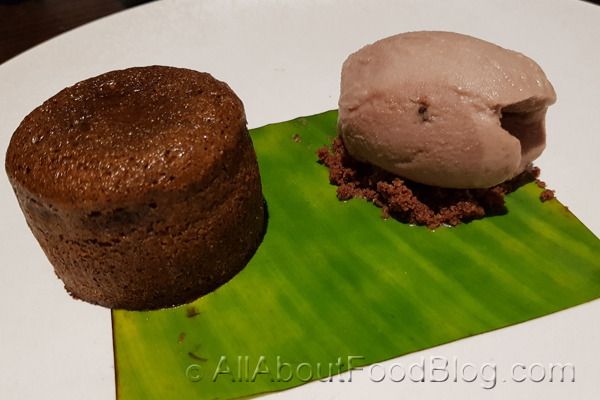 Crispy Choux (4) – $14 – served with pandan custard or lychee lemongrass
Again another rookie mistake… no gooey pictures… but this time it's because I wasn't fast enough to stop people from devouring them!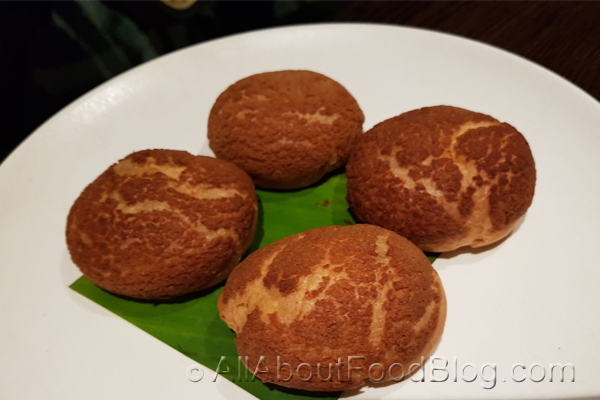 Sorbet – $12 – charcoal coconut, mango lychee, yuzu passionfruit, strawberry & raspberry
There were four different choices for the sorbet, but since the majority would want to try mango lychee, we had two scoops of them. The other one was yuzu passionfruit.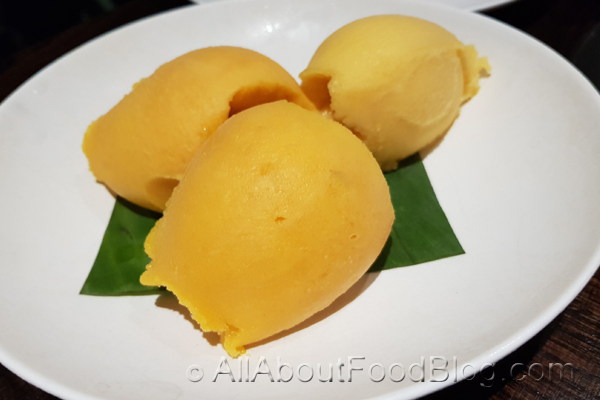 Trung Nguyen Cold Drip Coffee – $6 – condensed milk over ice
Considering that Vietnamese coffee with condensed milk was usually super sweet, that giant ice sphere actually dumbed down the sweetness considerably.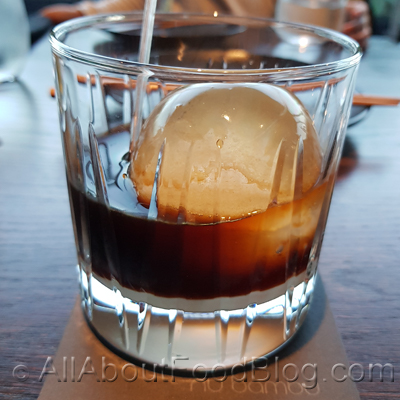 The final verdict for Nu Bambu
Nu Bambu might be one of the most expensive RSL restaurants in Sydney. However, the price was justified by the quality of food they served.
Do you think I should go?
Definitely! However, please be prepared that if you expect your usual Asian dishes, you will be disappointed.
Rating for Nu Bambu:
8.5 / 10
Taste: 8.5 / 10
Price: $200 with drinks for four people
Place: 8.0 / 10
Details:
Canterbury Hurlstone Park RSL
20-26 Canterbury Road, Hurlstone Park 2193
+61 2 9559 0088