7 / 10



Taste: 7/10

Price: $40 per person

Place: 8/10
Review:
When you step into an Outback Steakhouse, you will experience a Wild West saloon. Outback provided us with a nice hint to their specials in their menu: just look at the highlighted item on the list.
The first dish of the day was Bloomin' Onion ($9.95). It was a ginormous onion with dipping sauce in the middle. I wasn't expecting a dish this big for a microscopic price. It was like ordering 5 plates of onion rings but tasted so much better than any rings I've ever had. It also gave a true meaning to 'share plate'; you really MUST share this dish! The next one was No Rules Burger ($17.95). The name said it all! You can customise your burger according to the items on the list, 13 in total. The burger was quite small when compared to the bloomin' onion that came in just before this one. Otherwise, it was just a simple burger.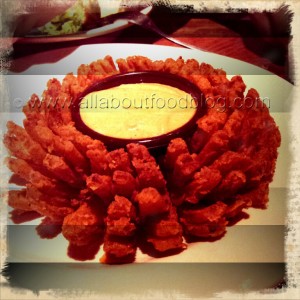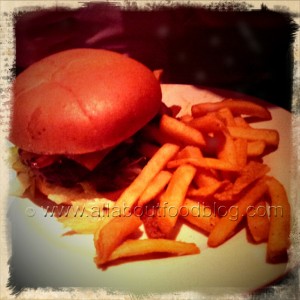 Unfortunately, I didn't get a chance to take picture of the next dish: it was Original Slow-roasted Prime Rib ($28.95 for medium). There was only a tiny difference in pricing for its sizes, ergo buy the largest. As usual, the steak came in a variety of cooking, with medium-rare being my favourite choice. It also came with complimentary soup or salad of the day and freshly made side dishes. You could also order a mini main course for a fraction of the price. In this instance, we ordered Half Lobster Tail ($15.95). I think the lobster was so much better than the steak. It was cook perfectly and off its shell easily. The lobster was accompanied by butter sauce. It really accentuated the lobster's taste whilst lessened its seafood flavour.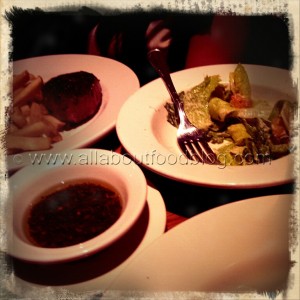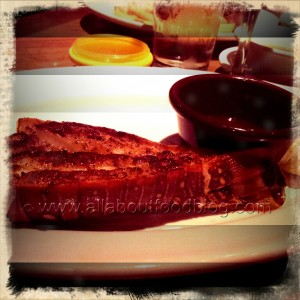 Lastly, we had the BBQ Beef Ribs ($33.95). With this dish, you can just forget about pretty dish presentation. It is a meat-lover dish and it should be presented the way it should: gloriously barbaric. It was a slab of smoky, chargrilled ribs with a serving of fries. The ribs was nice and juicy.
The final verdict: I dare not think calories when eating Bloomin' Onion from Outback Steakhouse. It was unbelievable and unfortunately the cheapest dish of the night.
Did you know?
Although it's called Outback Steakhouse, this restaurant chain was actually started in America in 1988. It didn't reach Australia until much later when the first Parklea restaurant was opened in 2001.
When I read Wikipedia, they mentioned that Outback's Cheese chips dish was one of the unhealthiest dishes in America – and I missed it!
Details:
Level 1, 3 George Street, North Strathfield, NSW 2137
+61 2 8756 5741
http://www.outbacksteakhouse.com.au/