The Palace Tea Room Review:
We went to The Palace Tea Room for the Mother's Day brunch. Given that we could get in without even booking the place was a plus in my book. Unfortunately, there was a little 'drama' where our food was delivered extremely late due to clerical errors. However, they were quite apologetic about it and removed the drink bill off our total amount. Not bad!
Let's talk about the food itself. Being in the historical Queen Victoria Building at the heart of Sydney, you would expect a sizable price point for the restaurant. Browsing through the menu, the price was actually quite acceptable.
Salmon & grilled vegetable salad with avocado, beetroot & feta, horseradish cream – $26
I ordered this for my main dish. However it ended up being taken over by my wife because her dish was unavailable (I think they ran out of pappardelle). She enjoyed everything about the dish.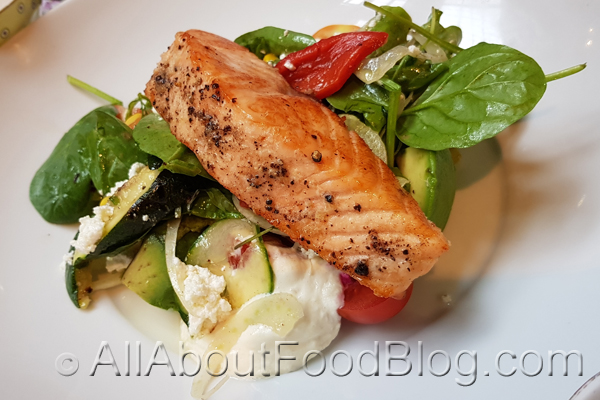 Wagyu Beef Burger (tomato, lettuce, pickles, gruyere, bacon, onion, fried egg) with fries – $25.5
We had wagyu beef burger as a replacement. While I was still having the burger, the little one actually wanted to eat the fries. To his defence, the fries were pretty good. There was nothing special about the burger.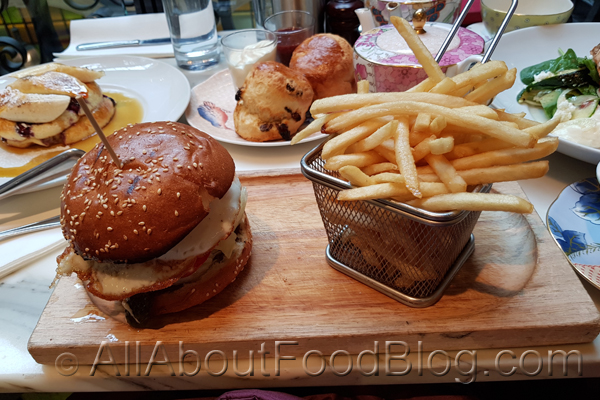 Buttermilk and blueberry pancakes, caramelised banana, honey butter and maple syrup – $17
The pancakes were very fluffy. It was probably a tad too big for a six-year-old kid.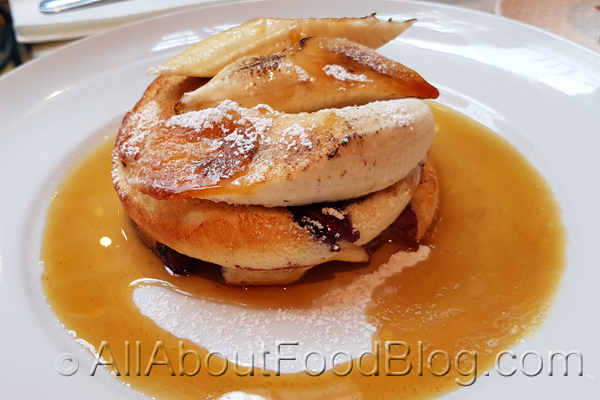 Devonshire Tea – two scones, tea or coffee – $18
The devonshire tea is why we are eating here in the first place. We ordered two types of tea: Rose Floral and Cherry Blossom Tea. They were very nice. I didn't eat too much of the scones (because I had to finish the pancakes).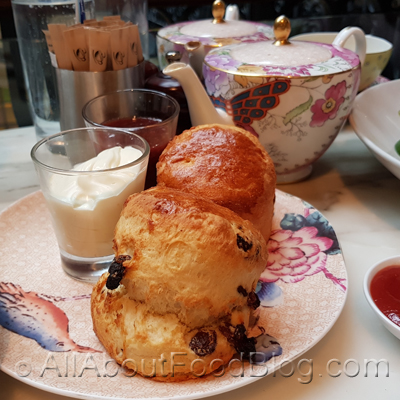 The final verdict for The Palace Tea Room
A big plus for the palace tea room was availability during Mother's Day and also how they handled crisis.
Did you know?
There are quite a lot of tea on offer at the Palace Tea Room. You could also purchase them to enjoy at home.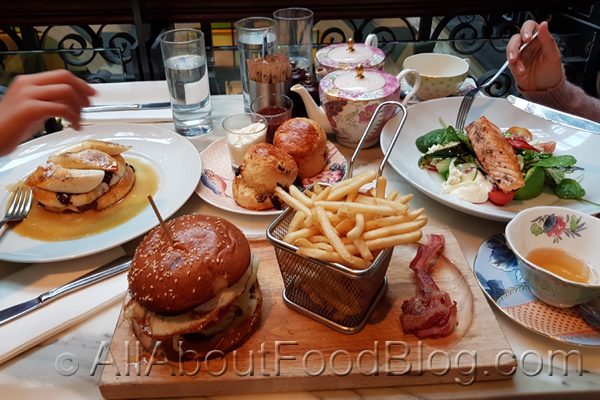 Rating for The Palace Tea Room:
7.0 / 10
Taste: 7.0 / 10
Price: $25 – $35 per person
Place: 7.0 / 10
Details:
Shop L1 20 – 22, Queen Victoria Building, Sydney
+61 2 9283 2222
http://www.thepalacetearoom.com.au/