7 / 10

Taste: 7/10

Price: $2 – $2.5 per plate

Place: 7/10
Review:
This week, we will take you to a typical Indonesian restaurant with a pretty unusual (for some people) ingredient. Sate Kelinci Pak Sapri is a restaurant specialises in rabbit satay. Great-tasting restaurants in Indonesia have predominantly one champion dish with some other dishes that people rarely ordered.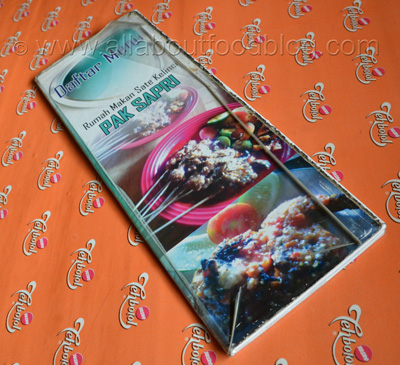 As expected, the first ten items in their menu are all about satay and all of its variation. However, since it took a while to grill them, the first two that came was 'Gule Kelinci' and 'Paha Kelinci Goreng'. 'Gule Kelinci' is a soup-based, curry-like dish that was a bit spicy and quite bone-full.  'Paha Kelinci Goreng' (deep fried rabbit's thigh) on the other hand was quite yummy and perfectly accompanied by the pickles and tomatoes on sweet soy sauce.
Now comes the rabbit satay. The regular 'Sate Kelinci' came with the usual peanut and sweet soy sauce, with a side of pickles. Rabbit meat is considered a white meat, so it tasted quite close to chicken, although some claimed to be healthier. The second one was a variation of it, Sate Kelinci Barbeque. So, instead of the peanut sauce, they were soaked with pre-made barbecue sauce. It is definitely quite an interesting combo, but I still like the regular one.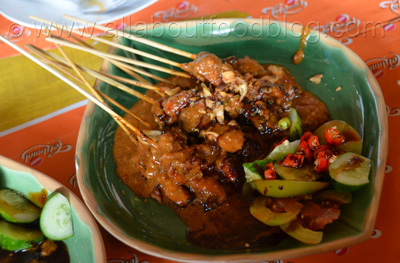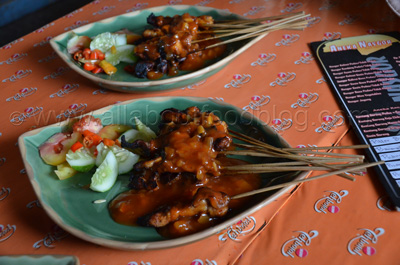 The next two items weren't on the menu but we know it's there, because we asked them. The first one was Karedok. Karedok is a kind of vegetable salad with peanut and garlic sauce. It is a dish originated from West Java and you could pretty much find it in any traditional restaurants. The second one is called Otak-otak. It is a grilled fish cake wrapped in banana leaf. They are enjoyed with spicy peanut sauce. Otak-otak is a pretty interesting dish because it's soft and charry with a rich peanut sauce taste.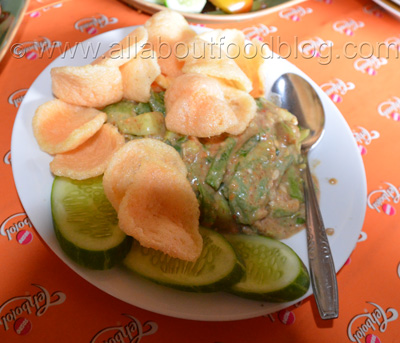 The final verdict for Sate Kelinci Pak Sapri
Sate Kelinci Pak Sapri gave us an authentic lesehan experience with a nice and affordable serving of satay. This might not be the restaurant for rabbit lovers, or people allergic to peanuts, because there are plenty of them.
Did you know?
There are quite a few of 'Sate Kelinci' restaurants on the way to Lembang. However, we picked Sate Kelinci Pak Sapri restaurant because it has a pretty spacious parking and the restaurant looked pretty presentable. This restaurant is pretty un-miss-able because it is located at a right bend of the road.
You can either enjoy your meal the normal table and chair way, or 'lesehan'. 'Lesehan' is when you enjoy food in a restaurant where you sit on the floor/mat-covered floor, instead of sitting on the chair. I always choose lesehan, because it creates a sense of informality.
Details:
Jalan Raya Lembang, West Java, Indonesia