Review:
The restaurant that we reviewed this week is pretty well-known for its Schnitzel. As a matter of fact, The Goni's Schnitzelria owned the bragging rights to be the Biggest Schnitzel in Sydney, probably matched by the Schnitzel Challenge by Austrian Schnizelhaus.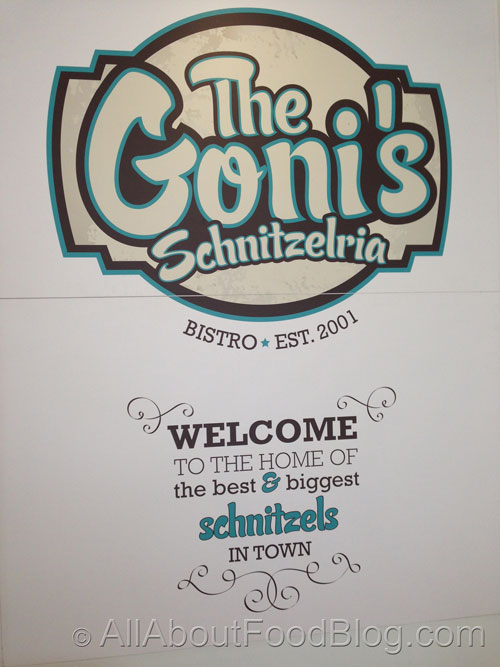 Four of us arrived at the restaurant feeling quite hungry and we decided to order three schnitzels and a bowl of chips (note: the schnitzels don't come with chips). We were contemplating on ordering two bowls of chips but were quickly stopped by the waitress. In the end I can understand if she might think we were crazy for trying to order three schnitzels and two bowls of chips.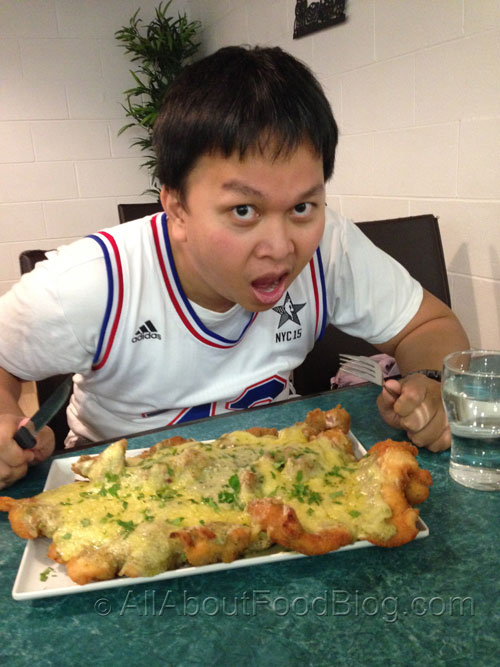 When the first schnitzel arrived, we quickly realised our blunders. The Mediterranean Schnitzel was a gigantic slab with generous parmesan cheese poured over it. Mediterranean is a chicken schnitzel with garlic, basil, pine nuts and walnuts with béchamel sauce.
We ordered veal for our next schnitzel, Criolla Schnitzel. It was veal schnitzel with a homemade beef mince sauce, corn and garnished with fresh chilli and parsley.
Our last schnitzel used cream sauce instead of melted cheese. The Boscaiola Schnitzel came with peas, mushrooms and bacon. The last one looked and felt very heavy. It looked heavy even if we removed the schnitzel!
We left the restaurant with three aluminium baking trays filled with more than half of our leftovers.  Well, in the end, we know that we don't have to cook any meals for the next couple of days!
Even with my love to eating big portions, I still could not finish even 40% of the schnitzel. That's how big the portions were at The Goni's Schnitzelria!
Did you know?
There are quite a lot of eating challenges that you can do in Sydney if you particularly love challenges. You can read some of them from a post by I ate my way through.
Rating for The Gonis Schnitzelria:
7.0 / 10
Taste: 7.0 / 10
Price: $24 – $27 per schnitzel
Place: 7.0 / 10
Details:
296 Marrickville Road, Marrickville 2204
+61 2 9560 2574
http://thegonisschnitzelria.com.au/