7.5 / 10

Taste: 7 / 10

Price: $35 per person

Place: 8 / 10
Review:
Our review this week came at the back of an ad hoc visit to a one-hat restaurant, Xanthi Bar and Restaurant (Greek: ????h?). To give you a perspective on how rare this was, we only went to a hat restaurant on special occasions, like birthdays.
The original title of our first dish was BBQ Calamari, but we had it changed to Crumbed Calamari ($16) because it suited our son better and they were willing to accommodate that. As expected, the calamari was perfectly fried. Our second dish of the day was a staple in a lot of Mediterranean/Greek restaurants, Dip Selection ($10). I think it was a great bargain for its price. You got tarama (salmon roe), split pea, and tzatziki dips and toasted pita bread.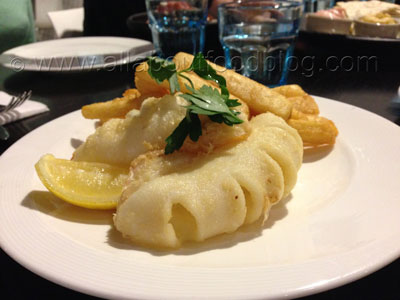 This next salad/fruit combination might be a bit unusual to some people, Watermelon and Manouri Salad ($11). It was a combination of watermelon, manouri cheese, candied almonds, and vanilla & honey vinaigrette. It turned out to be quite a refreshing dish with a playful sweet and savoury taste to it. Conversely, the Seafood Filo Rolls ($22) suggested by the waitress fell short of my expectations. The dish sounded really fancy: prawns and scallops with a cayenne pepper, coriander and flaked almond cream sauce, served with cos lettuce and cucumber ribbon salad with an olive oil vinaigrette dressing.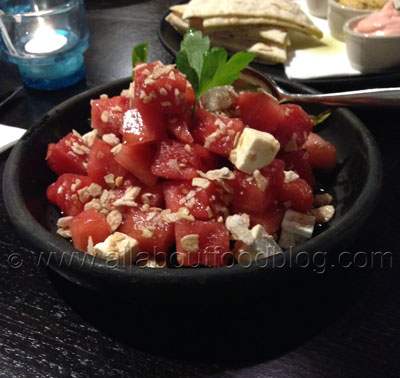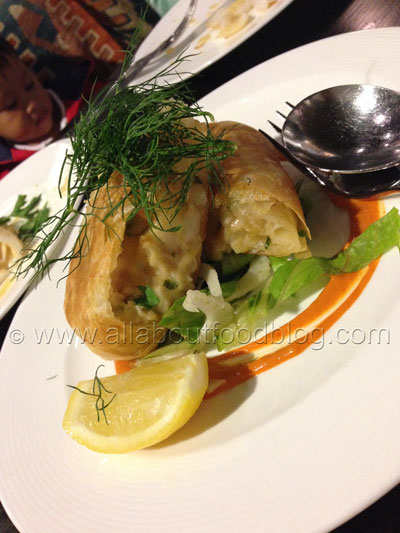 Our next dish was the most expensive of the night, 250gms Lamb 'Horiatiko Souvla' (from the spit) ($38) – Served with toursi (greek pickles), tzatziki, Greek salad and chips.  I am a big fan of its crispy lamb skin! It was seriously crunchy like pork crackling and I've never tasted lamb skin cracked like that!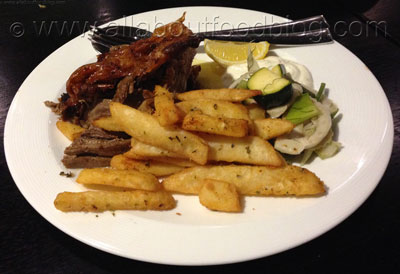 Our last dish of the day was Deconstructed Seafood Saganaki (34). We got two skewers of marinated prawn and calamari with spicy seafood sauce and creamed feta complemented the decoration.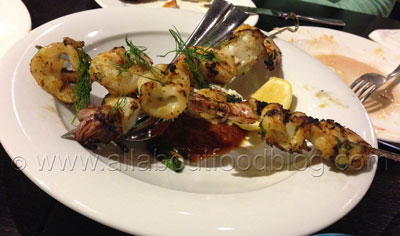 The downside of our visit there was that they missed the extra order, we wanted Lokaniko Spetsofai (sausage), but it never came.
As expected from a one-hat restaurant, Xanthi Bar and Restaurant delivered us quality meal in their dishes. However, with the exception of its Horiatiko Souvla's crackling, there was really nothing spectacular either.
Details:
Westfield Sydney Level 6
02 9232 8535