My Ippudo Experience
Ippudo is located on the fifth floor of the buzzing Westfield Sydney precinct. We have visited Ippudo a few times before, but it was always during lunch. On this occasion, we were invited for a three-course dinner meal at Ippudo. They have a lot more items on the menu when compared to the lunch menu.
Entrees
We ordered the Ippudo Pork Bun. Overhearing the loud conversation from the table next to us, this pork bun apparently has reached the 'legendary' status amongst food enthusiasts. We think it was quite a nice pork bun to set the mood for the evening. The braised pork was a perfect match with the sauce.
Our second entree of the night was Camembert Tempura. I love camembert cheese and I love crunchy stuff. Enter camembert tempura and I instantly got the best of both worlds! It was an interesting combo because both were pretty delicate and were masterfully fried whilst retaining its shape. The only thing missing here was the substitute for the cranberry sauce. Personally, I would love something sweet to accompany the tempura.
A La Carte
We were very pleased with the first a la carte dish, Sauteed Tasmanian Salmon. It was a very well-presented dish. The grilled salmon was presented with maitre d'hotel butter with an accent of Japanese shiso. The salmon was complemented with potatoes and asparagus. In the end, the salmon was mainly devoured by my son as he loved it so much. I only got to taste it a bit.
Presentation wise, the second a la carte dish, Wagyu Steak with Sauce Japonaise, was comprehensively beaten by the first one.  However, the taste was quite on par. The steak was cooked according to what we wanted and laid out in a bed of bean sprouts atop a teppan plate. Its strength was in the sauce Japonaise. The inclusion of mirin and ginger invoked my memory about Tetsuya's legendary vinaigrette. It worked very well with the steak!
These two dishes were more than enough to enhance my Ippudo experience.
Ippudo Ramen
It is not an Ippudo experience without their ramen. There are five different noodles dishes at Ippudo.
Shiromaru Motoaji
Description from the menu: Ippudo original tonkotsu broth served with thin noodles, pork loin, bean sprouts, black mushroom and shallots. Classic Hakata-style ramen.
The only ramen in the menu that we have not tried. Judging from the description above, this is supposed to be the 'classic' ramen.
Akamaru Shinaji
Description from the menu: Ippudo original tonkotsu broth enhanced with special blended miso paste and fragrant garlic oil. Served with thin noodles, pork belly, black mushroom and shallots. A refined, modern-style ramen.
Akamaru shinaji is my personal favourite. The miso paste worked well together with the fragrant garlic oil! On this occasion, we did not order this because we wanted to try the other on the menu.
Ippudo Karaka Men
Description from the menu: Ippudo original tonkotsu broth with special spicy miso & ground pork.
Karaka Men was a pretty simple miso ramen. Unfortunately, I underestimated the word 'spicy' in the menu. The ramen was quite spicy for someone who only eats spicy food sparingly.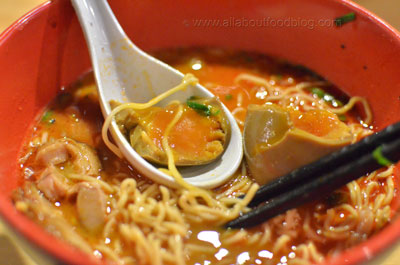 Tori Shoyu Ramen
Description from the menu: Topped with original chicken chashu, menma, leeks, naruto and nori.
When we first came to Ippudo, we did not see this menu. It was quite an option for people who doesn't eat pork. Instead of miso-based, this ramen was soy-based (shoyu) and that gave the clearer soup based. However instead of chashu looking chicken, the meat looked more like thinly-sliced chicken breast fillet.
Vegetarian Noodles
Description from the menu: Topped with avocado, cherry tomato, cucumber, yogurt, mandarin, corn flakes, mixed nuts, and a side of greens. Noodles mixed with a special sesame based sauce and topped with balsamic vinegar.
The vegetarian-version of the noodles was actually a dry one. I am not a big fan of large amount of vegetables, but my wife said that this dish was her favourite in Ippudo.
A few interesting things about Ippudo:
– You are not allowed to have BYO at Ippudo Sydney.
– When you ordered the soup-based noodles, you were offered how well you wanted the noodles to be cooked (Soft, Medium or Hard).
– You can't book the restaurant in advance.
Details:
Westfield Sydney Level 5 (Shop 5021)
+61 2 8078 7020
Updated Information on Ippudo
They will open their second restaurant around mid-September at Central Park. The address is: Level 1 RB07, 28 Broadway, Chippendale, NSW 2008.