Maenam Lao and Thai Review:
When we talk about Strathfield, people would associate this suburb in Sydney with the dozens of Korean restaurants in the area. However, I will talk about the only Lao and one of only 3 Thai restaurants on this week's review, Maenam Lao and Thai.
Lao and Thai cuisines are quite alike. According to wiki, som tam, sticky rice and larb dishes that you can find in most Thai restaurants in Sydney are actually a part of Lao cuisine.
Maenam has quite a diverse range of dishes and luckily we went there with quite a lot of people. So we could order quite a few of them.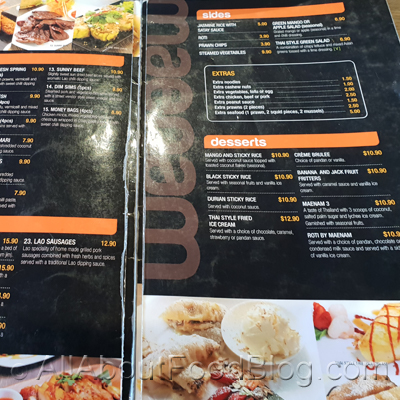 The dishes at Maenam
Massaman Beef Puffs (4 pcs) – $8.90 – Massaman beef curry encased in puff pastry served with sweet chilli dipping sauce.
It is quite interesting to have massaman beef in a puff pastry. I love how they did it.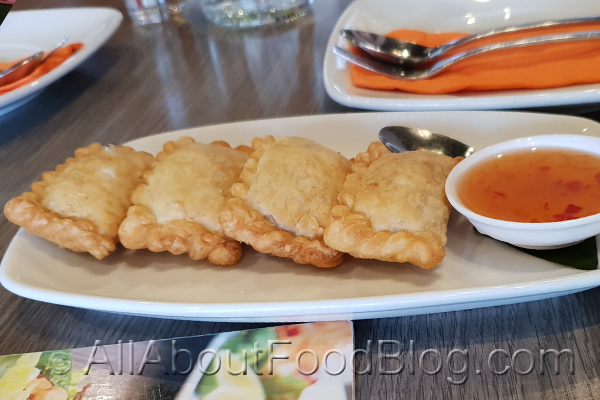 Raw Beef Salad (Larb Dip) – $13.90 – A Lao specialty of chopped raw beef, Asian herbs, tossed in an anchovy lime dressing and grounded roasted rice.
Larb is usually presented with cooked minced beef. This raw beef version was akin to the Japanese/Korean Yukke dish minus the egg yolk. I think this is my favourite dish of the day.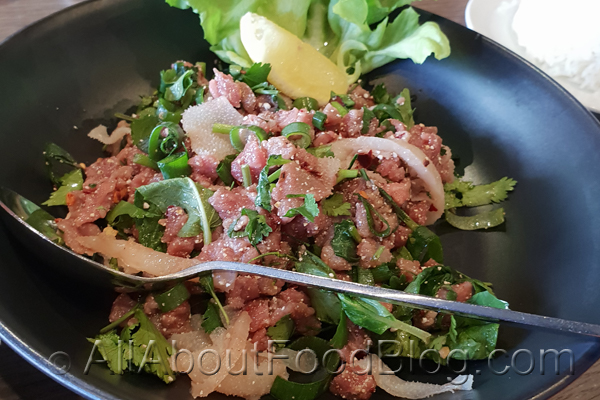 Seafood Crispy Noodles – $17.90 – Crispy egg noodles immersed in a thick gravy sauce with seasonal vegetables.
Crispy noodles dish is one of the first things that the little one will look for (obviously after ice cream). Kids always love the crispy nature of the noodles and the dish usually comes with lots of vegetables and your choice of meat.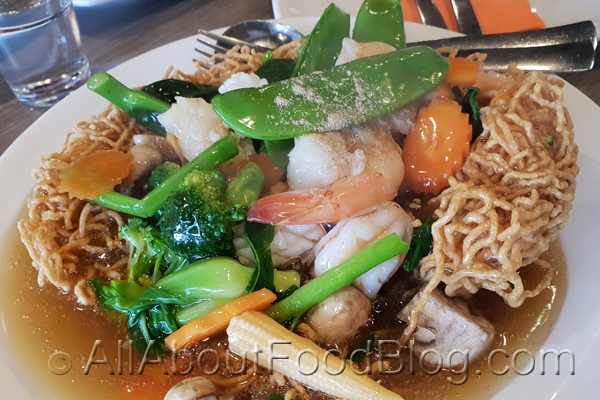 Salt and Pepper Soft Shell Crab – $16.90 – Deep fried battered soft shell crab seasoned with salt, pepper and shallots. Add $3 for mango or apple salad (seasonal)
I don't know why they don't just combine the soft shell crab with the salad instead of having it as an optional extra. The salad really accentuates the soft shell crab, something that people will miss if they didn't order the salad.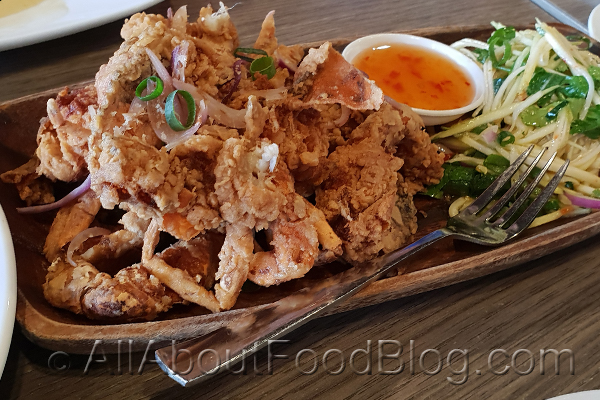 Crispy Pork Belly – $16.90 – Crispy pork belly in chilli basil sauce topped with crispy Thai basil leaves.
The bite-sized portion of the pork belly looked to be a hit amongst us.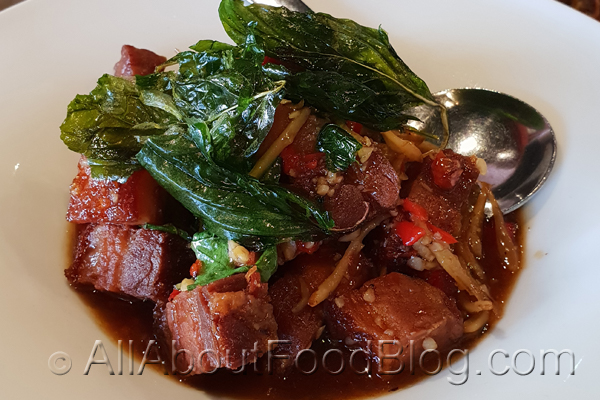 Massaman Curry Beef – $15.90 – Mild and aromatic curry of slow-cooked beef served with potatoes, onion and carrots topped with fried shallots and roasted cashew nuts.
We can't have enough off massaman beef, so we order the full version instead of just the puff.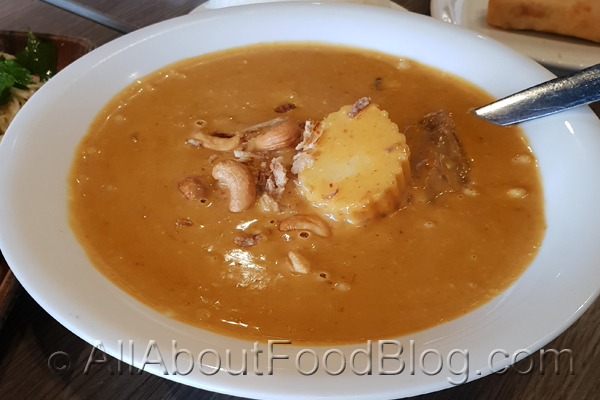 Desserts at Maenam
Durian sticky rice – $10.90 – Served with coconut sauce
Durian sticky rice is available in this restaurant. I know some of you will either love or hate durian… so let's just leave it at that.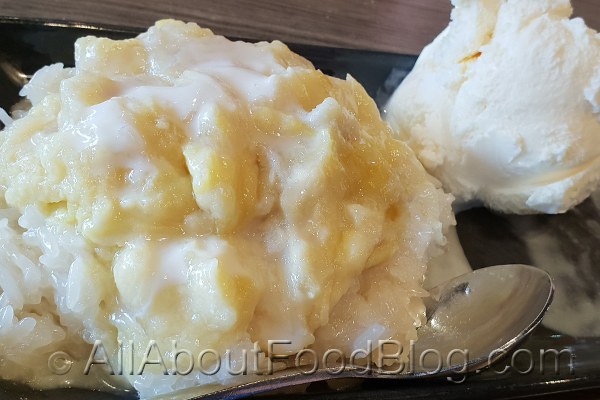 Roti by Maenam – $10.90 – Served with a choice of pandan, chocolate or condensed milk sauce and served with a side of vanilla ice cream
I was defeated in the voting between chocolate or pandan sauce. However, the chocolate sauce was also quite a good combination with the roti and vanilla ice cream.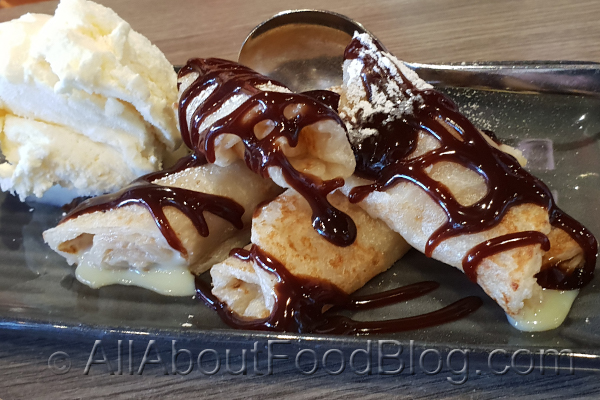 Maenam 3 – $10.90 – A taste of Thailand with 3 scoops of coconut, salted palm sugar and lychee ice cream. Garnished with seasonal fruits.
Three massive scoops of ice creams. I don't think we should explain it more…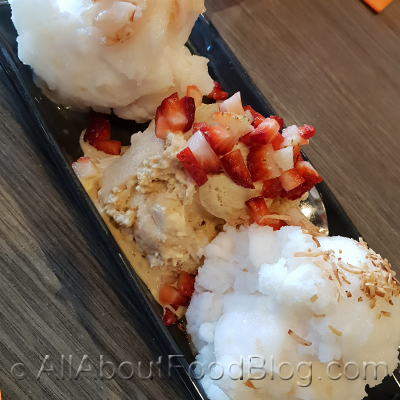 The final verdict for Maenam Lao and Thai
Despite being one of only a few Thai restaurants in the area, Maenam does not disappoint. They have an above average quality of food.
Do you think I should go?
There is another good Thai restaurant nearby, but they are a lot more expensive than Maenam.
Rating for Maenam Lao and Thai:
7.5 / 10
Taste: 7.5 / 10
Price: $15 – $20 per dish
Place: 8.5 / 10
Details:
31 The Boulevarde, Strathfield 2135
+61 2 9746 5882