7.5 / 10

Taste: 7.5/10

Total Price: $86 before discount

Place: 7.5/10
Review:
Our first journey to the African cuisine started in a restaurant called Moroccan Feast. We went to the restaurant out of pure coincidence. We wanted to taste something different, yet still available at decent price, with the help of Entertainment book's discount.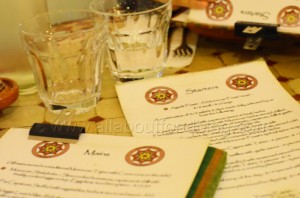 Moroccan Feast's interior design was dominated by clay, from the tables to the main dishes' tagines. This exotic design coupled with the hospitality, we knew we were prepped for a treat. I tried their drink Hot Apple Cider with Cinnamon Stick – $3.50 – and it was a really nice and soothing drink. Incredibly to begin with, especially with its glass and not a mug, but once you got rid of the steam, you would find a sweet cinnamon and sour apple drink – perfect for winter!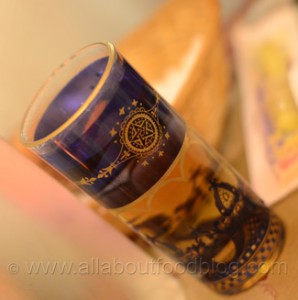 The night didn't start so well with the average-looking dish, Duck Pate served on a crunchy pita base (5 pieces $11). It was an orange dish of five grey blobs with a bowl of sauce in the middle. It quickly turned 180° when the waiter gave us a shot of honey. It interacted with the duck pate really well and added an extra sweetness to the bitter and savoury pate.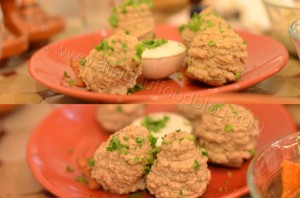 Our next entrée had quite a bit of explanation, Agadir Feast (small – $18). It was a combination of 4 salads and/or dips with pita bread. There were nine different items, but here were the four we got: Casablanca Carrot (Moroccan herbs and chilled), Fez Matbuh (marinade of tomato, capsicum, chilli garlic), Eggplant Dip (farlic lemon salt), Cabbage salad with coriander and fresh herbs. I have always been a sucker for eggplant dip, so I am really subjective in this part!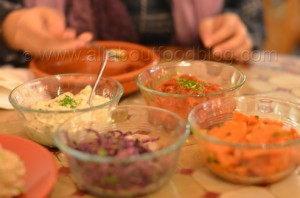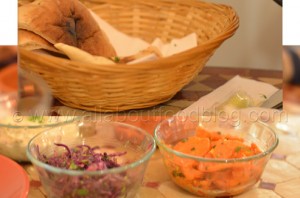 We were wowed by the main dishes since they came in full tagines (plus the waiter used mitts to deliver it to us!). For the first one we chose Marrakesh Chicken (on the bone) – $23 – the menu stated that the dish was cooked with paprika, tomato and Moroccan spices and served with cooked olives on the side. All of the main dishes came with couscous. I think it's the perfect combination to the dish.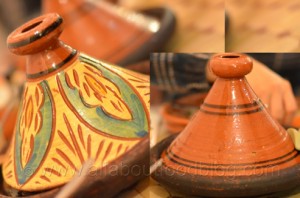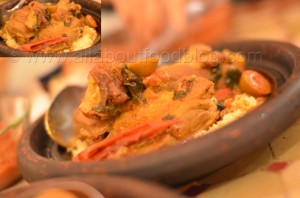 The best dish came in last: Lamb Tajine ($27) with caramelised onion, slow cooked prunes, sultanas, almonds and cinnamon. It was one of the most amazing lamb dishes I've ever had. The lamb was so perfectly cooked it came off the bone rather easily. The combination of sultanas, caramelised onion, cinnamon and prunes created an exotic sweetness to the dish. Super soft lamb, not smelly, in a rather big portion… what's not to love about it?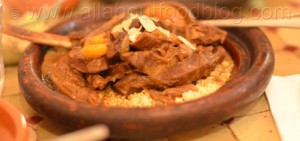 The final verdict for Moroccan Feast
Moroccan Feast restaurant delivered a great culinary experience. Excellent customer service with nice food also created an evening to remember. I can still remember how nice their Lamb Tajine was.
Did you know?
This is officially our first review of African cuisine. I had a brief look in Wikipedia for Moroccan cuisine and saw that the names of dishes in Moroccan Feast restaurant represented a vast range of important names in Moroccan food history. One thing that I didn't order was the traditional Moroccan mint tea.
Details:
127 Avoca Street, Randwick
+61 2 9399 9882