7.5 / 10

Taste: 7.5/10

Price: $10 – $29 per main course

Place: 7/10 (well it's still a food court, even if it's a nice one!)
Review:
My love for anything ribs landed me to Ribs & Burgers. The restaurant was opened at the same time of the launch of the renaming of Star City to The Star. The Star branch of Ribs and Burgers is located at the café court. It restricted me from giving a higher point as the ambience is pretty much 'food court'.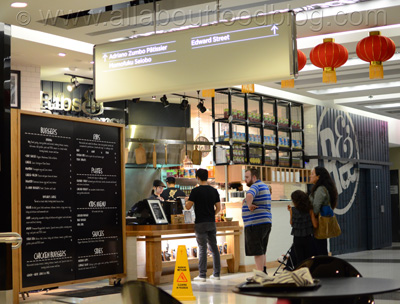 Straight off the bat, my eyes were directed to 'The R&B Succulent Ribs Range' and saw the Lamb Ribs for only $22 (with a choice of chips or cabbage salad)! To be honest, I was quite sceptical about it at first, considering most ribs places would charge in excess of $35 for a plate of ribs. My worries subsided as soon as I saw the wooden board with two racks of lamb ribs. From the taste department, they were also not beaten when compared to our regular ribs joints! Simple and delicious!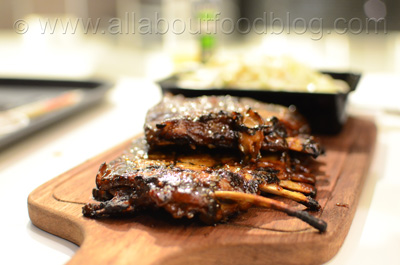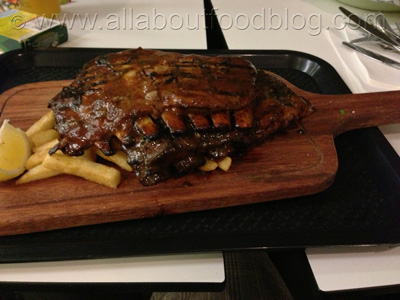 If lamb was not your culinary preference, you could have an option of Beef Ribs ($21) or Pork Ribs ($29). Both are still equally affordable, but instead of two racks, you only got one rack. Seriously, two racks of these would be overkill! For this, I only tasted the beef ribs. It was too thin to my liking, but it packed the same punch as the lamb ribs.
For a cheaper alternative (and less ribs) you can choose the Korean Ribs, a great value of $14 and you can choose between Beef or Pork ribs, cut and basted Korean-style. $14 ribs… seriously!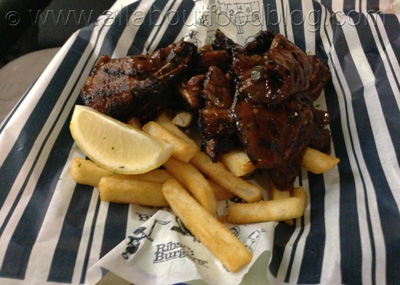 As the restaurant was named Ribs and Burgers, tasting the burger was a must! My choice went to Wagyu Burger (225gr, $18) from their 'R&B Butchers Choice Burger Range'. When I saw the burger, it was big and appetising! The lower bun looked quite crushed (presumably by the heavy wagyu beef meat). The burger was a bit pink in the middle, because of the wagyu beef, so you might need to ask for a 'well done' if you dislike medium-grilled meat. Chock-full of goodies, including crunchy onion rings, I think the burger would be more than enough for lunch but barely met my requirements for dinner. It was a nice alternative if you didn't want to eat the heavy ribs.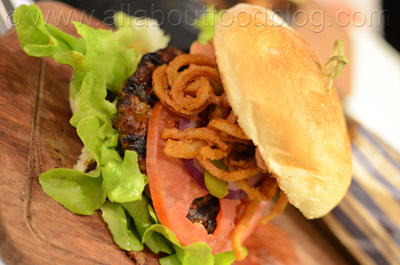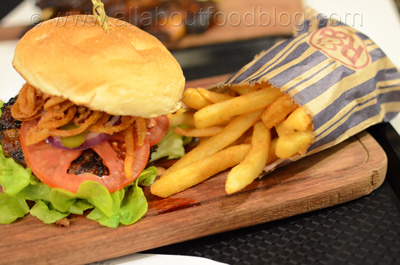 Ribs & Burgers also served the kids range with a complementary side of chips. We ordered Beef Burger ($7) for this one and I think the size was quite okay.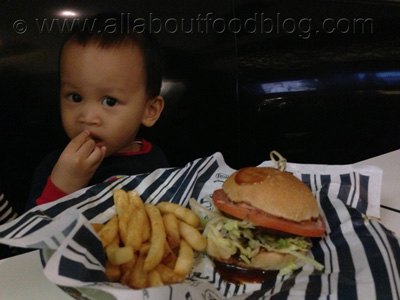 The final verdict for Ribs & Burgers
We were actually quite surprise that Ribs & Burgers delivered fantastic dishes! Best-priced ribs you can get for a weekend outing with friends and family.
Did you know?
You might want to go to Ribs and Burgers Neutral Bay branch for the restaurant experience.
The Star's café court used to look very dark and boring. The refurbishment made The Star looked pretty vibrant now. The list of restaurants occupying its directory list includes a three-hat, a one-hat and several other highly regarded restaurants in Sydney.
Details:
The Star, Café Court
Level G, 80 Pyrmont St, Pyrmont NSW 2009
+61 2 9518 8825